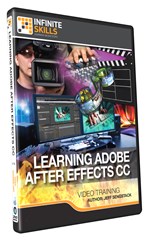 Learn After Effects CC at your own pace.
(PRWEB) June 24, 2013
Software training firm Infinite Skills Inc. this week introduced its Learning Adobe After Effects CC Tutorial, a course designed to help both beginning and experienced users master key elements of Adobe's motion graphics and compositing software.
After Effects is a program used to edit videos after production, allowing users to animate, edit, and composite media in 2D or 3D space using its extensive tools and plug-in capabilities. It is most commonly used to add animation to videos and to make final edits such as image adjustment and color correction.
InfiniteSkills' Learning Adobe After Effects CC Video Training - DVD is a training course designed specifically to help new users learn key skills and techniques involved in post-production, allowing even beginning video editors to quickly integrate After Effects into a video production workflow.
Learning After Effects CC Video Tutorial
Course author Jeff Sengsteck is an Adobe Certified Expert, having authored more than 300 articles and nine books covering various areas of digital media production with Adobe products and other programs. After a career in television news, where he learned the process of video production from hands on daily experience, Sengstack has turned his attention to training and education, working as a consultant, author, and a professor at Santa Rosa Junior College where he teaches video production.
Sengstack's years of practical experience, as well as his clear presentation style, make the Learning Adobe After Effects CC Training Video - DVD an easy-to-understand and enjoyable way to learn post-production animation and editing in a matter of hours.
After an overview of After Effects' basic functionality, Sengstack covers all the fundamental tools and techniques for editing in After Effects, including working with layers and keyframes, working with text, animation, painting tools, masks, and more.
Additional chapters cover how to animate using puppet tools, working with the parenting and nesting features, applying effects and transitions, and working in 3D space.
The Learning Adobe After Effects CC Tutorial also covers drawing and paint tools, how to animate paint strokes, using the Roto Brush to mask and highlight regions or to morph objects, and several other post-production tools and techniques.
"The workflow is not linear," Sengstack explains. "After Effects is a collection of modules, and you basically cherry-pick the modules you want to work with when you create a project."
"My goal is that by studying this course, you'll be ready to make great After Effects projects."
Free demo videos and a full list of course contents can be found on the Learning Adobe After Effects CC Tutorial training page of the InfiniteSkills website:
http://www.infiniteskills.com/training/learning-adobe-after-effects-cc.html
InfiniteSkills offers its Learning Adobe After Effects CC Video Tutorial either as a DVD or a direct download from the company website at a retail price of $99.95. All InfiniteSkills titles and formats are compatible with both Mac and Windows operating systems, and shipping is available around the globe. InfiniteSkills tutorials are supported by project files which correspond to examples in the videos.
About InfiniteSkills Inc.
A leader in the field of software training, InfiniteSkills strives to offer the highest quality training available at an affordable cost. InfiniteSkills tutorials are task-oriented instructional videos, teaching complex skills by providing hands-on examples, guiding users as they carry out critical objectives. InfiniteSkills offers a comprehensive range of software titles available as DVDs, digital downloads, and iPad editions, keeping with company aim of delivering professional training to customers anywhere they want to learn.