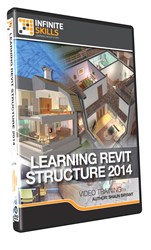 Learn Revit Structure 2014 At Your Own Speed
(PRWEB) June 25, 2013
Software training firm InfiniteSkills Inc. this week introduced its "Learning Revit Structure 2014 Tutorial," a course designed to provide engineers and architects with a functional introduction to this powerful Building Information Modeling program.
Revit Structure allows architects and engineers to design 3D models of buildings and their components, creating a plan for all the stages in a building's lifecycle, from concept and design to construction and eventual demolition. Revit's powerful building models database makes highly detailed models, facilitating interdisciplinary collaboration and the production of client documents throughout the design process.
InfiniteSkills' Learning Revit Structure 2014 Video Tutorial offers an in-depth guide to the fundamentals of working with Revit Structure as well as its powerful capabilities for documentation, annotation, and creating views.
Learning Autodesk Revit 2014 Tutorial Video
Course author Shaun Bryant is a training consultant with 20 years of hands-on experience as a Revit and Autodesk software application user in civil and structural engineering practice. He has worked for Autodesk in sales support and training and is currently an Autodesk Approved Instructor holding AutoCAD 2013 Certified Professional status. Bryant currently provides training and consultancy professionally for Autodesk products including Revit and AutoCAD.
Bryant's experience in using and training in AutoCAD and Revit gives him the expertise to create a lucid, easy-to-follow training experience for Revit users of every level.
After starting with the basics, covering Revit's basic interface, files, and navigation tools, Bryant explores all the elements of designing a project, from the open and save commands and using basic drawing and editing tools, to advanced modeling topics like creating frames, floors, foundations and structural reinforcement.
After exploring the critical elements of the modeling process, Bryant explains how to use Revit's BIM capabilities to create, annotate, and print construction documents, exploring important document elements like dimensions, text formatting, legends, and much more.
Other chapters include working with structural schedules and working with drafting views.
"We'll have a detailed look at Revit Structure," Bryant says, "and work our way through the product so that students can develop models and work with Building Information Modeling technology."
Free demo videos and a full list of course contents can be found on the Learning Revit 2014 training page of the InfiniteSkills website:
http://www.infiniteskills.com/training/learning-revit-structure-2014.html
InfiniteSkills offers its Learning Revit 2014 Training Video either as a DVD or a direct download from the company website at a retail price of $99.95. All InfiniteSkills titles and formats are compatible with Mac and Windows operating systems. Shipping is available around the globe. Additionally, InfiniteSkills tutorials are supported by project files which correspond to examples in the videos, allowing users to work alongside experienced instructors right on their computer or iPad.
About InfiniteSkills Inc.
A leader in the field of software training, InfiniteSkills strives to offer the highest quality training available at an affordable cost. InfiniteSkills tutorials are task-oriented instructional videos, teaching complex skills by providing hands-on examples and guiding users as they carry out critical objectives. InfiniteSkills offers a comprehensive range of software titles available as DVDs, digital downloads, and in iPad editions, keeping with company aim of delivering professional training to customers anywhere they want to learn.