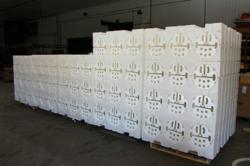 High Pressure Processing provides a lethal kill step for the most dangerous bugs.
White Pigeon, MI (PRWEB) June 28, 2013
The food industry is evolving and changing at a faster pace than ever before. New technologies and food safety regulations push the envelop of change further each day. With the constant threat of food recall incidents, the consumer needs to know whether the food on their plate is a threat.
The following recalls detected from June, 2012 to current; cold smoked salmon, cheese seafood, smoked pork sausage, ground Beef, sprouts, were mainly due to listeria and salmonella. The hundreds and thousands of pounds of recalled products resulted in millions of dollars lost. Spice Co., in 2012, recalled 1.4 million pounds of salami and owed $33 million to the salami maker due to contaminated ingredients, according to Yahoo Finance. Listeria and salmonella topped FDA reportable foods list in 2012.
A fouled product may not look or smell spoiled by salmonella or listeria. However, consumers who ingest the salmonella or listeria contaminated food normally experience high fever, severe headache, vomiting, nausea, abdominal pain and diarrhea. In the past couple years, cases of illness recorded by CDC reached 29,444. Of the 29,444 outbreaks, 53% caused illness and hospitalizations [Source: CDC, 2013 ]. Are you ready to avoid a multi-million dollar recall? Are you ready to build a safe food network?
High Pressure Processing (HPP) is a fully commercialized, emerging technology that is gaining rapid acceptance in global food manufacturing. HPP is a cold-water ultra-high pressure based technology that can drastically reduce the content of spoilage bacteria and microbes such as Listeria, Salmonella, and E.coli. In High Pressure Pasteurization, all natural food products are submerged in water and then subjected to incredible water pressure. Under the intense pressure, the spoilage microbes are drastically reduced. Brooke Meredith Whitney (2005) studied the effects of high pressure processing and found that it's able to reduce the most harmful bacteria reaches up to 5-log reduction (equals to 99.999%). "Coupled with the food industries already high standards in food processing cleanliness and uninterrupted cold-chain, High Pressure Processing provides a lethal kill step for the most dangerous bugs," states Vice President of Business Development, Jon Jurhs.
While the food manufacturers may benefit from the High Pressure Process (HPP), it is essential that they enhance the traceability of the food chain to ensure the consumer receives completely safe products. To a large extent, food companies are building a trust relationship with the consumer through their products. It sounds simple to know what's in your food and where it comes from, but food chain traceability is a complex worldwide issue. It requires consistent standards and advanced technology in an ever-changing world. "All Natural Freshness is proud to announce the latest addition to their HPP solution line up; a powerful combination of transportable and traceability." High Pressure Processing provides another layer of protection, but how can food manufacturers and distributors be certain the product has been processed properly? "With complete cold chain traceability integration from bar coding on the baskets, and a palletized shipping solution to ERP integration, ANF's HPP solutions ensure manufacturers and distributors can prove the safety of their products and avoid costly, dangerous contamination events," states Jurhs.