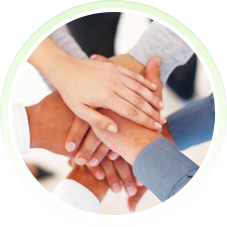 We aim to create an awareness movement, focused on giving individuals a life-transforming experience.
Dubai (PRWEB) June 23, 2013
Illuminations, the Dubai based holistic well-being center, not only helps individuals discover their highest wellness potential, but now they are gaining a positive reputation for offering a promising platform for doctors, teachers, healers and therapists to display their tools and information and connect with their target audience.
Since 2009, Illuminations has been collaborating with a variety of highly qualified holistic professionals both locally and internationally. Many of these healers, were either working from their homes, or did not have the right support system to flourish. These amateur professionals are now taken more seriously with a professional wellness center, such as Illuminations, to practice in.
Illuminations acts as representatives for the professionals in the field of holistic healing, and offer the following services:

Event organizing, scheduling and planning
Designing marketing content – E-flyers, brochures, pamphlets
Advertising, marketing & PR through innovative initiatives
Administration, accounts and budget planning,
Space rentals and F&B arrangements
Volunteers for supervision and servicing clients' needs maintaining high service standards
"Our goal is not one-off and shortsighted; rather, we aim to create an awareness movement, focused on giving individuals a life-transforming experience, which will encourage them to adopt positive lifestyle changes," said Soniyaa Kiran Punjabi, founder of Illuminations. "This will eventually result in a healthier environment, a united community and a better quality of life for all."
Vanya Silverten has been associated with Illuminations for over five years, where she has flourished in her career as a healer and therapist. "Illuminations takes care of all aspects related to bookings, PR and promotional activities, so that I can dedicate and focus my full time to my passion - which is to help individuals heal."
The ability to set up a professional school for quality education in hypnotherapy is one of the reasons the California Hypnosis Institute of India of CHII decided to join hands with Illuminations.
Dr. Yuvraj Kapadia, the founder of CHII, explains how Illuminations has put him on the international map. "I was previously only working in India, until Soniyaa Kiran Punjabi, founder of Illuminations, found me on the internet and offered to promote my courses in Dubai. This collaboration has taken us both to accelerating heights, and I am grateful to Illuminations for this success."
To learn more about the programs and classes at Illuminations please send your full name, mobile and email ID to info(at)illuminationsworld(dot)com or call 04 448 7043.
Illuminations is a Dubai-based holistic well-being center located in Jumeirah Lake Towers. The center was founded by Soniyaa Kiran Punjabi, with the intent of inspiring individuals towards a journey of self-discovery as a key to lasting happiness. The center offers a variety of services based on a holistic approach to self-development with the intention to provide a deeper insight into the mind-body-energy connection influencing the experience of life.