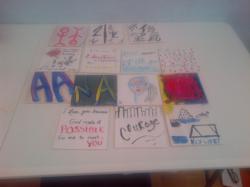 Miami, Florida (PRWEB) June 23, 2013
Into Action Treatment Center donated artwork created at their rehab center to Rise Up Gallery in Miami, Florida. The tiles will be sold and the proceeds will go towards finding a cure for paralysis.
Rise Up Gallery is located in Miami, Florida. The mission of Rise Up Gallery is a Collection of Artwork Created by Artists with Disabilities. Proceeds Fund an Adaptive Art Therapy Studio, Grants To Improve the Quality of Life for Individuals Living with Paralysis, and Research Grants to Medical Institutions Searching for a Cure to Paralysis.
Rise Up Gallery is the flagship program of Rise Up To Cure Paralysis, a registered 501(c)3 organization. Incorporated in October 2010, RUTCP began pursuing innovative fundraising strategies to allocate resources for the purpose of creating Quality of Life Grants to be awarded to individuals living with paralysis. Several successful art auctions inspired us to create the Rise Up Gallery, where disabled artists are able to showcase their art & photography. The proceeds from the sale of these artworks fund the quarterly Quality of Life Grants to individuals, annual Research Grants to Medical Institutions, and an Adaptive Community Art Space.
Into Action Treatment is a small 24 bed coed Florida drug rehab center located in Boynton Beach. Into Action is a very unique center, which focuses on long term recovery for addicts and alcoholics. Most treatment centers in the industry are 28 days, however Into Action is a minimum of 45 days, while most clients who complete the program end up staying over 90 days, even if their insurance money has run out. For more information on Into Action Treatment and how they can help those affected with addiction, visit their website at http://www.intoactiontreatment.com, or call their 24 hour hotline at 1-855-933-6732 for free addiction advice and treatment options.