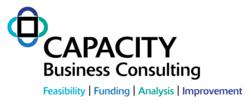 We also wanted to provide some free resources to help companies with very limited budgets.
Newburgh, NY (PRWEB) June 27, 2013
Capacity Business Consulting recently overhauled their website with a completely new look, easier navigation, and easier to identify service offerings for the small to medium size businesses they serve.
The new site has Business Resources to help businesses who want to try and "do it themselves". These resources include videos on Alternative Funding; Engagement Identification and Objective Questionnaires to help businesses identify and solve their real issues; and various templates including a Marketing Strategy Template, Twelve Month Financial Proforma Template, and a very popular Business Plan Template.
The "Services" area of the site was also updated significantly to make it easier for businesses to find and understand the value of the sometimes complex services Capacity offers. The services are organized in three sections:
1. "Startups" focusing on the feasibility, planning, funding, etc. that new companies need to succeed.
2. "Problem Solving/Improvement" focusing on the needs of existing businesses including services like turnaround, growth strategy, operational strategy, expense reduction, etc.
3. "Exits/Sales" which focuses on sales preparation, valuation, negotiation, and business brokerage services.
Eric Egeland, CEO of Capacity Business Consulting states, "Small and medium business owners are busy running their company and are often times unaware of the services used by bigger companies to help them get out of trouble or achieve their goals better and faster. Our services were always priced for small to medium business budgets, but we wanted to make our offerings easier to understand. We also wanted to provide some free resources to help companies with very limited budgets."
Additionally, there are many helpful articles "In the News" and any page on the entire site can be printed, e-mailed, or shared with 339 social apps such as Linkedin, Facebook, Twitter, etc. with one click.
About Capacity Business Consulting
Capacity Business Consulting's broad array of services includes feasibility studies, funding preparation, issue analysis, improvement, turnaround, strategy, sales, etc. for small- to medium-sized businesses and startups in any industry. For more information, visit our website or call
845.764-9484