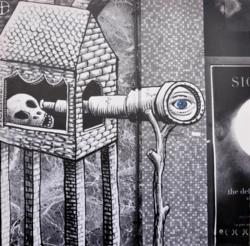 Does any street artist recognize any of this photograph to be their own work?
Part of "Street Fare" exhibit by Valerie C. Burton at Galerie 240 in Ottawa, Canada
Ottawa, Ontario (PRWEB) June 25, 2013
Guild 240 is looking for the street artists who created the wall art that photographic artist Valerie C. Burton has photographed around the world. Her recent opening of the show "Street Fare" showcased one work which is now painted over in pink.
Not offended in the slightest, Burton feels street art is now the most pervasive and diverse art of all. No intermediaries of a gallery, curator and critic. Street art provides immediate cultural dialogue between artist and viewer.
Brenda Warner, curator of the gallery has been so inspired by the original pieces that Burton photographed in black and white that she's putting out a call to the artists who originally inspired Burton. She wants to find out more about their motivation to make street art, and find out what they are doing now.
"I am intrigued by the changeability of street art," says Warner. "Somebody's started a creative chain that's ended up here in Ottawa, Canada, and I want to find out who and where they are today."
Interested street artists, who think they could be the instigators of Valerie C. Burton's "Street Fare" pieces, are asked to visit http://www.guild240.com to see if their artwork figures in hers. For further information and comments, Brenda Warner can be reached at 613.680.0866 or at brendagalewarner(at)mac(dot)com.
Street Fare" is running to August 31st 2013 at Guild 240. (240 Guigues Avenue, Ottawa Canada K1N 5J2).
(30)
About Guild 240
Guild 240 is made up of a group of like-minded individuals working together to create, perfect, preserve, interpret and celebrate art in all its expressions from visual art and music to dance and theatre. The objective of Guild 240 is to increase the visibility of artists living in and visiting the National Capital Region (Ottawa, Canada) through events and presentations that draw on their talents, their networks, and their creations in a mutually supported environment.
Curator Brenda Gale Warner is also a member of the Ottawa Fundraising Committee for the campaign "For All Canadians". The "For All Canadians" campaign is Canadian Blood Services' $12.5-million major financial gifts campaign to build a national public cord blood bank. Canada is the only G8 country without a national public cord blood bank; Canadian Blood Services is working to change this. Visit http://www.blood.ca/campaign.
  
Media:
Kita Szpak, KS Communications, Ottawa Canada, kita(at)sympatico(dot)ca #613-725-3063