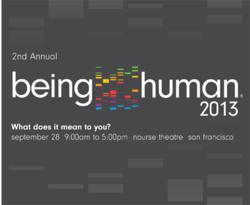 San Francisco, CA (PRWEB) June 25, 2013
BeingHuman.org announces that Being Human 2013 will feature a fascinating segment exploring the biology of love, the evolution of sexuality, and how we choose our mates. Presented on Saturday, September 28, 2013 in San Francisco's magnificent Nourse Theater, the "Love & Sex" segment will feature some of the world's most forward-thinking biological anthropologists and social scientists.
Sponsored by KQED, the Long Now Foundation, and Wikimedia Foundation, the second annual Being Human event will foster a deeper understanding of what it means to be human from a variety of scientific, philosophical and evolutionary perspectives. In addition to the "Love & Sex" segment, the program will also include segments on The Biology & Psychology of Ethical Behavior, Human Emotions, and The Future of Being Human.
"We've invited some of the brightest minds in the fields of human behavior and sexuality to share their insights about two of the most powerful forces on earth, love and sex," said Jeff Klein, Executive Director of the Baumann Foundation. "Their presentations and the conversations that will follow will foster a sense of connection, clarity, and a deeper understanding of our common humanity."
Helen Fisher, Ph.D., a renowned biological anthropologist, specializes in the study of interpersonal romantic attraction. The author of numerous seminal books, including The Sex Contract: The Evolution of Human Behavior, Dr. Fisher believes, "We are living in a sea of social and technological currents that are likely to reshape our family lives. But the drives to fall in love and form an attachment to a mate are deeply embedded in the human brain. With the expansion of the roles of both women and men, longer life spans, and the growing social acceptance of alternative ways to bond, we now have the time and tools to make more fulfilling partnerships than at any time in human evolution."
Justin Garcia, Ph.D., an evolutionary biologist and Assistant Professor of Gender Studies in The Kinsey Institute at Indiana University, studies how human evolution and culture affect courtship and dating, romantic love, intimacy, and sexuality. As a scientific advisor at the dating site Match.com, Dr. Garcia believes that environmental and cultural forces contextualize our sexuality in unique ways, and has researched the underpinnings of the new Western "hook-up culture" that is accepting of casual sex.
Laurie Santos Ph.D., Associate Professor of Psychology at Yale University, researches the evolutionary background of the human brain by studying non-human primates in her Comparative Cognition Lab. She and her team have found that monkeys make consistently irrational decisions, mirroring the same bad choices that people do. Dr. Santos has stated, "Many of the most important decisions we make—choosing a mate, for example—are decidedly not simple. Even when we try hard not to make mistakes, we make decisions based on irrational strategies and cognitive biases that we often don't realize are occurring. The best we can hope for is becoming aware of our irrational tendencies, so that we can catch mistakes before they happen."
Tickets to Being Human 2013 and more information on these and other featured speakers and presenters are available at BeingHuman.org/2013.
SUGGESTED KEYWORDS: Helen Fisher, Justin Garcia, Laurie Santos, Being Human, Love & Sex, The Kinsey Institute, anthropology, evolution, romantic love, cognitive biases, fulfilling partnerships, Nourse Theater, Baumann Foundation, Peter Baumann, Ethics & Behavior, Human Emotions, The Future of Being Human
*** END ***
ABOUT THE BAUMANN FOUNDATION & BEING HUMAN
Being Human is an initiative of The Baumann Foundation that fosters an ongoing exploration into the nature of human experience from evolutionary, scientific and philosophical perspectives. By creating environments for learning, connection and conversation, including public and private events, publications and a website, Being Human invites all people to discover a deeper understanding of our human nature. For more information please visit BeingHuman.org and TheBaumannFoundation.org.