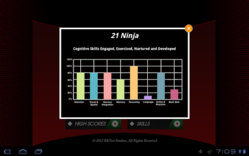 Cognitions Bridge game '21 Ninja', when played against the computer or a friend, supports development of 21 cognitive skills, life skills, and social skills.
Middletown, NJ (PRWEB) June 24, 2013
Anant Goel, CEO at RKNet Studios said: "A joint study, by The American Society for Training & Development and U.S. Department of Labor, showed that through technology, the workplace is changing, and identified 16 basic skills that employees must have to be able to change with it. Cognitions Bridge fun game 21 Ninja, when played against the computer or a friend, supports brain fitness and develops a range of 21 cognitive skills including the following social skills:
Life skills: that are set of human skills acquired via teaching or experience; and are used to handle problems and issues encountered in daily human life.
People skills: that is the ability to communicate effectively with people in a friendly way, especially in business.
Social skills: for interaction and communication with others. Social rules and relations are created, communicated, and changed in verbal and nonverbal ways.
Soft skills: are personal attributes that enhance an individual's interactions, job performance and career prospects. Unlike hard skills, which are about a person's skill set and ability to perform a certain type of job or activity, soft skills are a person's ability to interact effectively with coworkers and customers and are broadly applicable both in and outside the workplace.
A skill is the learned ability to carry out predetermined results with the minimum outlay of time, energy, or both. These are the abilities that one possesses. Skills can be divided into domain-general and domain-specific skills. For example, in the domain of work, some general skills would include time management, teamwork and leadership, self-motivation and others, whereas domain-specific skills would be useful only for a certain job.
The online Cognitions Bridge website platform is free to use and users can decide to download free [or premium] games for fun, brain health, cognitive and social skills development, and skills grading.
The Cognitions Bridge website is "work in progress" and covers all five pillars of brain health and includes resources and information on:

Brain Healthy Life Style: Specific lifestyles and actions can, no matter what age, improve the health and level of functioning of the brain.
Nutrition and Supplements: Over 77% of brain is water and it consumes considerable amount of glucose. So, eat well and eat right and take supplements.
Stress Management: Prolonged exposure to high levels of stress or daily episodes of fight or flight encounters, without any stress release, can damage the brain.
Physical Exercise: Aerobic exercises, yoga, and dancing enhance neurogenesis and neuroplasticity.
Mental Stimulation: Helps in building Brain/Cognitive reserves with novelty, variety, challenge, and purpose.
Each game highlights the cognitive skills engaged, keeps scores to monitor player's progress, and at the end it grades cognitive skills level as part of its development process.
Everyone has some cognitive and social abilities, but not everyone's abilities are the same. People can, at any age, improve their cognitive capacity, speed and accuracy. When they do, everything that relies on those skills gets easier, faster and more efficient.
Cognitions Bridge games can be downloaded on your tablet from Google PLAY Store or the Apple APP Store.
Launch Press: http://www.youtube.com/watch?v=U1nLhrvZxbg
Download Free Game from Play Store: https://play.google.com/store/apps/details?id=com.rknetstudio.ninja
Download from App Store: https://itunes.apple.com/us/app/21-bridge/id623725250?ls=1&mt=8
About RKNet Studios:
Founded in 2007, RKNet Studios develops digital media content and mobile apps for the global audiences. Created by NJBIN award winning team; Cognitions Bridge mobile apps and games are for education, entertainment, brain fitness, and development of cognitive and social skills. The developers bring over 40 years of experience in technology, Applied Cognitive Psychology, communications, and applied operator training systems for fast moving Nuclear Power Control Rooms.