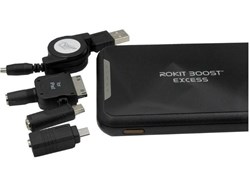 New York, NY (PRWEB) June 22, 2013
RokitBoost, the premier electronic accessories company, is pleased to announce the launch of its all new 6000mAh external battery charger for all USB friendly devices.
This new travel charger is being heralded as a game changer, due to its revolutionary 4x faster speed when charging devices compared to competitors.
Rokit Boost Excess 6000 Power Bank is a unique charging device that can charge favorite devices including iPod, iPhone, iPad or any other USB enabled device. Also known as a Travel Charger, It has multiple charging connectors and dual USB ports, so that consumers never run out of juice.
Ultra-fast charging.
This tiny little device can charge iPhones or other devices 4x faster than any other USB chargers. In addition, it takes less time to charge up and it reserves its power for days on the move.
State of the art features and robust quality.
Rokit Boost Excess 6000 Power Bank includes state of the art features including but not limited to ATL Li-ion polymer battery, Blue LED indicators for battery status as well as Automatic shut-off function to keep long standby time. It is made with durable materials and it can easily absorb any kind of shock from impacts or accidental drops.
Sleek and stylish design.
Rokit Boost Excess 6000 Power Bank is a stylish accessory for your gadgets i.e. iPhone, iPad, iPod.
Light weight yet long lasting support on the go.
Rokit Boost Excess is really light in weight and weighs only eight ounces. Yet, it has long lasting power support with its 6000 mAh battery that can keep gadgets juiced up while traveling around.
Unmatched durability and safety.
Rokit Boost Excess 6000 Power Bank comes has an intelligent and reliable circuit with protection from over-temperature, over-current, over-charge, over-discharge, short-circuits and so on.
For a limited time, RokitBoost is giving free samples of its new external battery charger to qualified guest bloggers. All guest bloggers are invited to visit RokitBoost.com and request a complimentary external battery charger.
About RokitBoost
RokitBoost is a tech company, focusing on improving electronic devices. Whether it be an iPhone charger case, Bluetooth headphones, or a wireless bluetooth speaker/microphone, our products focus on improving existing technologies. We believe in great customer service, great prices, and above all else - great quality products.