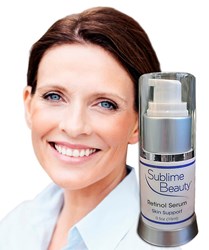 Retinol triggers changes in the skin to make it look clearer and more youthful.
St. Petersburg, FL (PRWEB) June 26, 2013
Vogue Magazine recently heralded the return of retinol, a tried and true ingredient that for some time was being overlooked by various new arrivals in the beauty industry.
Retinol was discovered more than 81 years ago, and in the 1960s, scientists began to convert Retinol into a more stable compound for skin care. By 1971, the Food and Drug Administration approved it for treatment of acne. Everyone soon realized that Retinol was powerful for more than just acne - it smoothed fine lines and wrinkles, helped damaged skin and lightened age spots. More work over the years has brought better and better formulations.
"No question, we wanted a superior Retinol for Sublime Beauty clients," says Kathy Heshelow, founder of Sublime Beauty.® "Our product is a silky serum with Retinol at 10% and it is non-irritating to skin. Our special addition is 5% Vitamin C, such a great anti-oxidant for skin care. We also include Vitamin E!"
"Retinoids trigger change in the skin to make it look clearer and more youthful; they actually help skin get back to a healthier place. And there's strong, strong clinical data behind that," said Dr. Jennifer Linder, a Scottsdale dermatologist, in the Vogue article.
Retinol encourages cell turnover and skin looks more radiant with ongoing use. Retinol sloughs away old cells and helps reveal a younger, fresher face. Prescription formulas have yielded the most impressive results, but they also can be quite irritating to the skin. The Sublime Beauty® Retinol serum is specifically non-irritating while including a high enough concentration to perform.
Sublime Beauty® is offering a special 25% discount through today for its Retinol Serum - less than $27 to start on a path to better skin quality. And the company offers a money-back guarantee if dissatisfied.