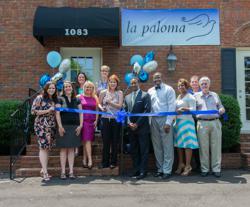 We are grateful for the opportunity to serve an even greater number of men, women and families who need access to our services. - Kyrstan Anderson
Memphis, Tenn. (PRWEB) June 24, 2013
La Paloma Treatment Center, a recognized leader in the field of integrated treatment for substance abuse and/or co-occurring mental health disorders, is proud to celebrate the grand opening of it's new facility for outpatient services. The facility is conveniently located in East Memphis at 1083 West Rex Road, which is ideally located to serve Memphis and the surrounding area.
The newly opened facility provides confidential, responsive services for those seeking treatment in a less-structured setting, and reflects the growing demand for outpatient treatment services in Memphis. The La Paloma Outpatient program offers group-oriented programs with staff and peer support, psychiatric evaluation and assessment, medication management, group therapy and life skills classes integrated with 12-step principles.
Kyrstan Anderson, La Paloma Director of Outpatient Services, remarked, "We are proud and excited to celebrate the grand opening of our new outpatient center, and are grateful for the opportunity to serve an even greater number of men, women and families who need access to our services."
La Paloma was founded in Memphis in 2007 and is part of Foundations Recovery Network, which owns and operates three inpatient and five outpatient treatment facilities across the country.
For more information about the La Paloma Outpatient Facility, visit the website or call (901) 722-3972.
ABOUT LA PALOMA TREATMENT CENTER:
La Paloma Treatment Center in Memphis, Tennessee, provides integrated treatment for individuals with substance abuse issues and/or co-occurring mental health disorders. Through the use of the Foundations model of recovery, the experienced staff at La Paloma addresses all the complexities of an individual with a Dual Diagnosis.
La Paloma's residential campus is located a short distance from historic, mid-town Memphis with outpatient services located in East Memphis. La Paloma provides comprehensive, medically supervised detoxification services, integrated treatment with individualized plans, and treatment programs that incorporate the 12-Step principles, daily individual and group therapy sessions, and life skills workshops. http://www.lapalomatreatment.com
ABOUT FOUNDATIONS RECOVERY NETWORK:
Headquartered in Nashville, TN, Foundations Recovery Network is one of the premier organizations for treating those with co-occurring addiction and mental health disorders. FRN's treatment facilities include Michael's House in Palm Springs, CA; The Canyon in Malibu, CA; La Paloma in Memphis, TN; and full-service outpatient treatment centers in Atlanta, GA; Santa Monica, CA; Memphis, TN; Nashville, TN; and Palm Springs, CA.
All FRN facilities utilize an integrated treatment approach, focusing on a Dual Diagnosis model for lasting recovery. http://www.foundationsrecoverynetwork.com