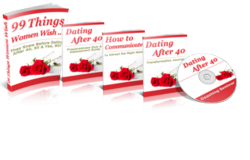 Personal empowerment plays a huge part in attracting and keeping a relationship worthy of who you are as a woman.
West Palm Beach, FL (PRWEB) June 25, 2013
Licensed Mental Health Counselor Amy Sherman and Certified Corporate Trainer Rosalind Sedacca are sisters on a mission. Both Dating & Relationship Coaches, they want to empower women over forty with the self-confidence and skills to attract and keep a meaningful love relationship. Their new Create Your Ideal Relationship Kit is designed to achieve that goal.
Within the Kit are strategies, advice and tips single women need to know before dating, while dating, when starting a romantic relationship and when deciding whether they've found a "keeper." The Coaches provide five valuable resources; each one created to enhance a woman's dating skills and radar while building her intuitive sense of personal empowerment. The five resources were designed to complement one another, working together to boost personal strengths while firming up weaker assets.
"It's a winning combination that gives you a competitive edge that has nothing to do with looks, weight, background, finances or other self-sabotaging beliefs," says Sedacca, who was divorced and single for six years before remarrying her Mr. Right. "All the tools, tips and techniques are easy to implement in one comprehensive Kit. These are the strategies I used to move from dating frustration and apathy to attracting a really great man in my life!"
"Manifesting a healthy relationship takes inner as well as outer awareness. That's where most women go wrong," notes Sherman who is also a therapist in private practice. "They under-value the importance of inner preparation and focus all their attention on how they look, where they go and what they say. Confidence, self-esteem, trusting your intuition and personal empowerment play a huge part in attracting and keeping a relationship worthy of who you are."
The Kit is available online in digital or physical formats. Both formats including five valuable resources:
1) 99 Things Women Wish They Knew Before Dating After 40, 50 and Yes 60! (book) - The 99 keys provided in this professionally acclaimed book will empower readers to avoid the most common pitfalls and mistakes of dating after 40 -- and guide them toward developing the healthy, mutually satisfying relationships they desire and deserve. This is an informative, easy to read, candid and dependable resource that delivers realistic guidance singles can relate to and welcome.
2) Dating After 40 Preparedness Quiz & Assessment Guide (ebook) – Filled with exercises and tips that provide women with a better understanding of their own personality to help them explore valuable new perspectives on dating as well as warning signs when a relationship may be heading for a ditch.
3) Dating Audio Coaching Seminar (CD) – The Coaches guide listeners through strategies for success as well as important pitfalls to avoid when dating and entering into a serious relationship.
4) How to Communicate to Attract the Right Mate (ebook) – A woman's effectiveness as a communicator is one of the keys to a successful relationship. Good communication should build trust, improve the physical and emotional connection and enhance intimacy. Readers learn essential communication skills that can hold a relationship together and build the foundation for long-term fulfillment.
5) Dating After 40 Transformation Journal (ebook) – One of the best ways to make meaningful changes in life is by starting a personal journal. This special Journal was designed to help mature women achieve lasting benefits from each component in the Kit, including heightened insights, sharper perceptions and keener self-awareness related to relationships.
About the co-creators
Amy Sherman's expertise comes from more than twenty years in private practice specializing in relationship therapy. She understands the insecurities, disappointments and frustrations single women experience and the ways they inadvertently sabotage their own success.
Rosalind Sedacca's contribution comes from two directions: her own divorce followed by six years of being single and then a happy remarriage for the past ten years. She also has a twenty-year background as a Certified Corporate Trainer and Relationship Coach, providing numerous workshops for singles and couples.
Together Amy and Rosalind combine their knowledge and experience with their sincere commitment to empowering the lives of single women. The result is real relationship guidance women count on.
The Kit, valued at $139, is specially discounted at just $57 digital delivery or $77 shipped delivery. Details can be found at http://www.womendatingafter40.com.