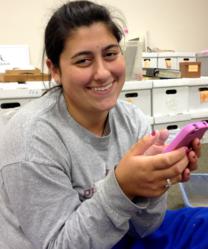 Social media is the best way to reach significant numbers of people with our message about the power and value of preservation.
Boulder, CO (PRWEB) June 24, 2013
Adventures in Preservation (AiP) is expanding its use of social media to enable a broader segment of the public to engage in real-time education during its hands-on preservation projects. Social media allows for dissemination of information to preservation enthusiasts unable to be onsite.
This social media strategy will be a major part of AiP's upcoming project at Fairfield Plantation in Gloucester, Virginia. The strategy was developed by cultural heritage social media expert Terry Brock in conjunction with The Fairfield Foundation. With twenty volunteers present to participate in the actual hands-on work, AiP and The Fairfield Foundation are looking to social media to involve a greater number of people in the archaeological discoveries and preservation discussions that will occur during the week.
The project team intends to create and post videos of each day's work, and supplement them with frequent blogs, tweets, and posting of still photos. Project participants, known as citizen preservationists, will serve as online ambassadors, tweeting and blogging about their experience in the field each day.
The aim of this social media strategy at the Fairfield Plantation, and at all of AiP's international projects, is to involve as wide an audience as possible in the experience. This increases AiP's reach in educating and mobilizing people for preservation.
"At the root of it, preservation is about education, the same way the environmental movement is based on increasing awareness of the benefits of conservation and the environmental costs of our current lifestyles. Social media is the best way to reach significant numbers of people with our message about the power and value of preservation," said AiP co-founder Jamie Donahoe.
AiP's actual project runs the week of August 25, but the virtual experience will continue beyond that. Online visitors will be able to view short tutorials of each day's activities and learn about work still needed.
AiP began tweeting from its hands-on historic preservation projects in 2009 and today continues to engage with over 2500 followers of their @handsonhistory Twitter stream.
Adventures in Preservation (AiP) is a non-profit organization connecting people and preservation through enriching experiential programs that safeguard cultural heritage and foster community sustainability. AiP travelers have the opportunity to travel, experience their destination, and learn hands-on skills from experts while assisting communities in saving their heritage. Learn more about AiP's "Heritage Travel with Purpose" at http://www.adventuresinpreservation.org.