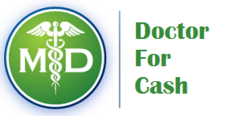 Las Vegas, NV (PRWEB) June 27, 2013
Insurance company...two words that are almost guaranteed to make anyone growl or shudder. For patients, an insurance company's inexplicable refusal to cover a procedure may send them into collections. For doctors, the same situation can leave them out the money for a procedure indefinitely. With a growing number of people choosing to handle medical expenses in cash in order to avoid these tough issues, DrforCash.com offers medical professionals and prospective clients a place to meet.
Health insurance is a difficult proposition for many. Premiums for insurance can rapidly add up, and consumers are often found footing the bill for many thousands of dollars of deductible each year, even when they've paid every monthly premium. For this reason many people have decided to deal in cash for their medical expenses.
Doctors face defaulted payments on a regular basis when insurance companies fail to cover procedures which have already been carried out. This leaves the medical practitioner responsible for paying their staff and for materials used up, all without seeing a dime of compensation. As a private practitioner most doctors don't have the muscle to effectively fight with huge insurance companies. Working with a pool of cash clients helps to defray some of the issues faced by these professionals.
The new medical directory site DrforCash.com has been designed with the intent to match patients looking to get out from under oppressive insurance company premiums with doctors seeking solace from the difficulties in collecting payment after a procedure has already been completed. Offering medical providers the opportunity to fully customize their directory listings, the site is and ideal resource for both sides of the struggle against the hassles of modern insurance companies.
Quick and easy profile management is coupled with outstanding opportunities for featured listings on DrforCash.com, making the site a premier destination for medical service providers. Plus, the ease of use and robust search engine are appealing to prospective new clients. This new site is a powerful tool for doctors and patients alike.
About DrforCash.com and Doctor For Cash, LLC.
The DrforCash.com website is operated by Las Vegas-based Doctor For Cash, LLC., a young, dynamic company with a vision. Doctor For Cash, LLC. is focused on providing services to both medical practitioners looking for business and patients seeking the right care in their preferred area.
For further information regarding Doctor For Cash, LLC. and the services offered at DrforCash.com, visit http://drforcash.com/.