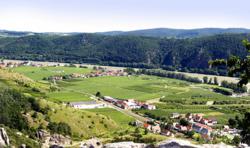 Are you upset little friend? Have you been lying awake worrying? Well, don't worry...I'm here. The flood waters will recede, the sun will shine tomorrow, and I will always be here to take care of you. - Charlie Brown to Snoopy
(PRWEB) June 26, 2013
It seems that every week we hear of a new storm of the century, but the recent flooding on the Danube river was truly an event of the millennium.
Passau, Germany experienced the worst flooding since 1501. How long ago was that, you ask? 500 years ago, Michelangelo was in Florence creating his masterpiece "David" and Nicholas Copernicus was trying to convince people that the earth revolved around the sun. So, it's been quite a while since a flood of this magnitude has disrupted.
But disruptions to the cruises on the Danube river are about to end. When the repairs on the Altenwörth lock between Melk and Vienna, Austria are completed on June 29, 2013 cruise traffic on the Danube river should return to normal.
It's no mystery why the river cruise industry is anxious for these repairs to be completed. These floods have disrupted river traffic on a river where, historically, problems have been very few.
Danube River Cruises are the most popular river programs in Europe as the ships pass through amazing scenery, small villages and four capital cities (Vienna, Bratislava, Budapest and Belgrade). The Wachau Valley is a beautiful region, perfect for a cycling excursion away from the ship.
Once the lock repair has been completed, the Danube River cruise market will come back stronger than ever. Space is already getting tight for departures this fall. Contact Euro River Cruises to experience one of these amazing journeys.
About us:
Euro River Cruises is a pioneer in the river cruise business and has been representing European river cruise companies in the US, Canada, Australia, New Zealand, South Africa and Ireland for 15 years.
They offer a wide range of river cruise programs from three to 29 days on all of Europe's major rivers. There are programs on all of the major rivers like the Rhine, Danube, Rhone and Seine but they also offer cruises on the Guadalquivir in Spain, the Douro in Portugal, the Po River in Italy, the Tisza in Hungary and the Garonne in France. For more information, contact: http://www.EuroRiverCruises.com.
Euro River Cruises
365 Route 304
Nanuet, NY 10954
1 (800) 768 7232