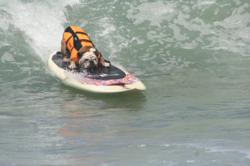 "Tillman rocked some killer waves to take home the championship title, but what is most important is that everyone had a great day on the beach today and we raised money for a great cause," said Jennifer Duffy of Loews Coronado Bay.
San Diego, CA (PRWEB) June 24, 2013
He skateboards, snowboards, skim-boards and today he proved that he can surf with the best of them. The celebrity dog, Tillman, won first place in the Large Dog Category at the Loews Surf Dog Competition-Unleashed by Petco.
The event drew thousands of spectators and their dogs to watch 43 surf dogs compete for the Loews Surf Dog Championship Title today in Imperial Beach, California.
The dogs caught three to four foot waves and displayed incredible athleticism and tenacity. "Conditions were a bit choppy, but the top dogs were able to ride their way to victory," said Chris MacCartee, surf instructor at Coronado Surfing Academy and event facilitator.
The event benefitted the ASPCA –raising thousands of dollars for the prevention of cruelty to animals. For the first time ever, The Humane Society of San Diego hosted a mobile adoption at the event and was able to find homes for several puppies. Event highlights included a festival atmosphere with activities such as an Unleashed by Petco Dog Park on the beach, a Kyjen agility course, an AT&T Family Splash Park, as well as a Natural Balance Beer Garden, doggie ice cream, food trucks and more.
This year's top surf dogs are:
Large Dog Category
1st Place: Tillman, English Bulldog
2nd Place: Kalani, Golden Retriever
3rd Place: Ricochet, Golden Retriever
Small Dog Category
1st Place: Abbie Girl, Australian Kelpie
2nd Place: Toby, Shit-tzu mix
3rd Place: Kona, Shepherd mix
Tandem Surf Category
1st Place: Hanzo, Boxer, and Kalani, a Golden Retriever
2nd Place: Nami, a pit bull and her owner Ryan
3rd Place: Antonio, a spaniel mix, with Kona, a Shepherd mix, and Ricochet, a Golden Retriever
Loews Coronado Bay Resort
Situated on a private 15-acre peninsula surrounded by the Pacific Ocean and Coronado Bay, Loews Coronado Bay Resort is located just minutes from downtown Coronado, a charming resort village, and a short drive to San Diego's world-famous attractions. Resort amenities include direct access to the Silver Strand State Beach, three tennis courts, a private 81-slip marina, three acclaimed restaurants, 440 sea-inspired guest rooms and suites, and panoramic views of the San Diego-Coronado Bay. For more information, please call 619-424-4000, 800-23-LOEWS or visit
Unleashed by Petco®
Anything but ordinary, Unleashed by Petco® offers exceptional customer service in a fun, pet-friendly environment. We always encourage shopping with your pet. We've got a wide variety of your favorite brands. Our knowledgeable associates make finding the right nutrition and healthy pet essentials a snap. If you're looking for fashionable pet apparel, we've got that too. Best of all, we're conveniently located right in your neighborhood. Visit Unleashed by Petco® today!
About the ASPCA®
Founded in 1866, the ASPCA® (The American Society for the Prevention of Cruelty to Animals®) is the first humane organization established in the Americas and serves as the nation's leading voice for animal welfare. One million supporters strong, the ASPCA's mission is to provide effective means for the prevention of cruelty to animals throughout the United States. As a 501(c)(3) not-for-profit corporation, the ASPCA is a national leader in the areas of anti-cruelty, community outreach and animal health services. The ASPCA, which is headquartered in New York City, offers a wide range of programs, including a mobile clinic outreach initiative, its own humane law enforcement team, and a groundbreaking veterinary forensics team and mobile animal CSI unit.