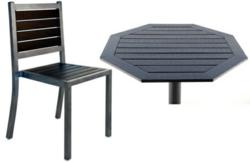 (PRWEB) June 24, 2013
Leading restaurant furniture supplier Affordable Seating proudly announces its new line of Plas Teak restaurant table tops and chairs. Plas Teak is a new synthetic material which looks and feels like real Teak. It is the perfect furniture for restaurants or cafes that have patios or outdoor seating and has many uses.
While Plas Teak looks just like real Teak, it is extremely durable and does not require any maintenance or care and is built to last a lifetime. It never requires painting and the finish is UV stabilized against fading. There is no need for winter storage and unlike wood furniture it will not crack, rot or splinter.
The Plas Teak table tops and chairs are made in the U.S.A., as are many other restaurant furniture products made by Affordable Seating. "We are proud to produce and assemble many of our products here in the U.S.A., providing jobs" says general manager Jeff Greene. Affordable Seating's reputation for excellent quality is due to the fact that they produce their own furniture, much of it by skilled American workers.
Affordable Seating has an impeccable record when it comes to being environmentally responsible. The Plas Teak products which are made from recycled plastic help reduce the impact on the environment. Plas Teak is an eco-friendly alternative to Teak which is made from lumber that comes from tropical forests. By buying Plas Teak instead of wood, consumers help reduce the footprint on the environment in two ways, by preventing the destruction of trees and contributing to recycling.
Priced the same as Teak, the stylish Plas Teak Table tops come in octagon, square or rectangle shapes in 30" X 30" or 36" X 36" sizes. Built for commercial use they look great indoors or outdoors. The attractive Plas Teak and Metal patio chair is made of durable Plas Teak seats and back and the frame is powder coated with a silver vein finish and complements the table tops nicely but is versatile enough to be used with many different table tops.
The synthetic teak materials that the Plas Teak furniture is made from is suitable for any region or climate, whether it's the desert, sub-tropical humid or salty air for locations by the beach. Plas Teak will not corrode and the finish will not fade. It is easy to clean and maintain.
The Plas Teak Table Tops and Chairs are just some of the many restaurant furniture products Affordable Seating offer. They have a large selection of patio furniture, restaurants chairs, bar stools, table tops, booths and many other restaurant products.
For more information about Plas Teak or any other restaurant furniture products Affordable Seating has to offer visit affordableseating.net or call Toll-Free: (888) 495-8884.