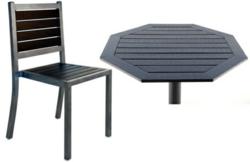 (PRWEB) June 26, 2013
Leading restaurant furniture supplier Restaurant Furniture.net is happy to announce it is to begin selling Plas Teak restaurant chairs and table tops. The revolutionary synthetic teak is the ideal furniture for restaurant patios, outdoor bistros, sidewalk cafes or any other outdoor use. Plas Teak looks and feels just like real teak.
Restaurant Furniture.net is proud to be adding Plas Teak to its line of Made in the U.S.A. products. The synthetic teak furniture is made in the U.S. Restaurant Furniture.net understands the importance of manufacturing products in the U.S.A., producing jobs and helping the American economy and has been moving production of many of its products to the U.S.
Plas Teak looks and feels just real teak and is more durable. It is weather resistant and maintenance free, unlike real teak which requires special care. The Plas Teak chairs and table tops are very attractive. The modern looking Plas Teak restaurant chairs are made with a powder coated frame with a silver vein finish.
According to general manager Glen Owens, one of the reasons Restaurant Furniture.net decided to sell and promote Plas Teak is because it is an environmentally friendly alternative to real teak, which is a tropical hard wood and comes from felled rain forests. "Restaurant Furniture.net is conscious of the impacts of its operations on the environment. By selling Plas Teak, which is made from recycled plastic, we are providing a great product, encouraging recycling and contributing to the conservation of forests".
Plas Teak furniture is made of top quality, recycled plastic lumber and are built to lifetime. Priced the same as Teak, Plas Teak is an environmentally friendly alternative at a very competitive price. For restaurant owners who want the quality, look and feel of real wood for their outdoor restaurant furniture, Plas Teak is an excellent choice. It's weather resistant qualities make it perfect for outdoor bistros and cafes. Whether the restaurant or café is in a sunny locale such as Southern California or the southeast where oxidation from the sun or salty moist air from the beach is a problem, or in regions where wind and rain can cause rotting and weathering damage, Plas Teak furniture is a worry free choice.
Restaurant furniture.net offers a wide range of patio and restaurant furniture. Restaurant Furniture.net produces most of its own furniture, much of it in the U.S.A. Customers are also welcome to visit the company's Chicago showroom.
Restaurant Furniture.net's prices are very competitive and they offer a price guarantee on all of its products.
For more information visit restaurantfurniture.net to browse its selection of restaurant chairs, bar stools, table tops, table bases, booths, patio furniture and sale items.