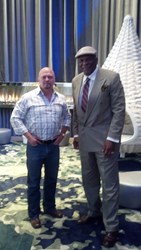 Phoenix, AZ (PRWEB) June 23, 2013
David Gergen creating Pro Player Health Alliance has brought a new wave of awareness to the public by NFL greats sharing personal struggles, experiences and losses with sleep apnea. The events hosted by PPHA allow individuals to meet their sports heroes at free events and learn how to improve their health at one location in their own community. After treating over 150 former/current NFL players, Pro Player Health Alliance teaming up with the likes of Derek Kennard, Mike Haynes, Tony Dorsett, Warren Moon, Erik Dickerson, Marcus Allen, Roy Green, Mark Walczak, Larry Fitzgerald and Carl Eller to speak with fans who suffer with snoring and sleep apnea has turned the tide in battling countless health complications that so many people suffer from all over the world.
Using his extensive network of contacts in the medical and dental field Mr. Gergen finds the top doctors in each community to attend the event and offer expert advice to attendees, making these events the only place one can go to receive free consultation from professionals and meet NFL legends at the same location without any cost.
In addition to teaming up with the top doctors and professional athletes in North America, Gergen has recently made plans with Carl Eller and the Retired Players Association to begin holding ten overall health screenings for former NFL players beginning next year.
Also, The Living Heart Foundation, supported by Covidien, recently launched the HOPE (Heart, Obesity, Prevention & Education) program for former NFL Players. It is an obesity management awareness program aimed at healthy lifestyles and weight management for retired professional football players. PPHA has officially become a part of the HOPE program as well, with sleep apnea being the root for health problems such as heart attack and obesity.
All in all, the goal of PPHA is to ultimately help the community by decreasing the amount of individuals that go undiagnosed through assisting medical partners in growing their practices as well as treating as many former professional athletes as possible. By treating retired pro athletes and partnering with the top organizations to date, PPHA hopes the word will be spread on how to prevent health complications for everyone around the world.
Visit http://proplayersleep.com to learn more about David Gergen and Pro Player Health Alliance.
About David Gergen
As President of Pro Player Health Alliance and Gergen's Orthodontic Lab, he has been a nationally respected dental lab technician for over 25 years. He received the award for "The Finest Orthodontic Technician in the Country" given by Columbus Dental in 1986. He also has been appointed chair of the dental wing of the American Sleep and Breathing Academy a national interdisciplinary academy dedicated to sleep training and education with over 60,000 members. He has worked for some of the pioneers in the orthodontic and sleep dentistry fields. One of his proudest achievements is receiving The National Leadership award for Arizona Small Businessman of the Year in 2004.
About Pro Player Health Alliance
PPHA is an organization dedicated to helping former NFL players, through providing testing and treatment options for those who suffer from sleep apnea. In addition, the PPHA is dedicated to integrating education and raising sleep apnea awareness, in a fun and memorable way. In addition to the campaign, the PPHA is dedicated to testing and getting people treated who suffer from sleep apnea. The PPHA was created by David Gergen, President of Gergen's Orthodontic Lab and Former NFL legends.