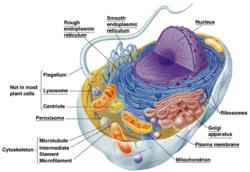 Ultrastructural Studies @ EurekaMag.com
Mannheim, Germany (PRWEB) June 25, 2013
The Science Website EurekaMag.com has newly published 181 thousand references on ultrastructural studies. The ultrastructure is the detailed structure of a biological organism including cells, tissues and organs, that are too small to be seen with an optical microscope but can be identified by electron microscopes. A large majority of the newly published entries are included in the site's Research Category which covers the ultrastructure of animal cells including nucleus, endoplasmic reticulum, Golgi apparatus, mitochondria, lysosomes, ribosomes, and centrioles, and the ultrastructure of plant cells which additionally include a cell wall and chloroplasts. The Life, Earth and Health Sciences Research Section 6 features the bibliographic details of over 34,100 science articles on such ultrastructural studies in humans, animals and plants.
The Life, Earth and Health Sciences Research Chapter 5003 contains a significant subset of the newly published references on ultrastructural studies and particularly those comparing different animal and plant species of identical orders in the biosphere. Among many others, it features studies on comparative ultrastructural effects of Aflatoxin B 1 on mouse rat and human hepatocytes in primary culture, comparative ultrastructural investigations on four soil borne cucurbit viruses, comparative ultrastructural observations of spore wall structure in six species of Echinostelium and three species of Eumycetozoa, and on the comparative ultrastructure of leuko-toxic and nonleukotoxic strains of Actinobacillus actinomycetemcomitans.
The Life, Earth and Health Sciences Website EurekaMag.com was launched in 1998 and has become a comprehensive publisher of references in biology, in the applied life sciences agriculture, horticulture and forestry, in the earth sciences, in the environmental sciences, and in the health sciences. It currently contains a total of 36,061,439 bibliographic references from as early as the beginning of the 20th century of which 10,564,269 entries feature a summary of their science content. The site maintains RSS feeds which enables users to subscribe to news in their favorite science topics. The site also maintains accounts at Twitter and Facebook. It has now also newly published a mobile portal to which mobile devices will be automatically redirected.