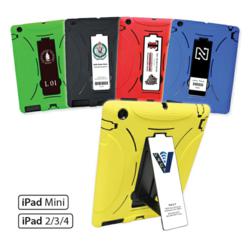 The iPad Slim Tough Case G2 is designed with school's needs in mind. It offers all the features technology directors ask for, and fits in the Bretford and other charging carts.

Chicago, IL (PRWEB) June 25, 2013
The Slim Tough Case offers multi-layer protection using a combination of (1) an outer soft rubber shell, (2) an inner polycarbonate hard case, and (3) a slim profile that's designed to fit the Bretford charging carts. This case is supremely shock absorbent and since all buttons and ports are tightly sealed, the Slim Tough Case provides rain and splash protection, while giving the user full access at the same time. A built-in stand offers a convenient way to stand the iPad in both orientations, for screen sharing or movie watching. It's designed to fit in virtually all popular charging carts, including Bretford, Anthro, Datamation, and others.
In response to feedback received from schools, the company's second generation product, called the STC G2, adds improvements such as a built-in screen protector, a stronger polycarbonate case and kickstand, with thicker padding on the soft silicone skin, making it one of the favorites for large scale deployments.
A rugged case is a must for schools. According to an article published on Billings Gazette – "About 5 percent of the iPads purchased for school students and staffers in Powell Wyoming have had to be repaired or replaced since they were introduced last year. Eighty-one iPads worth $40,192 were damaged. Of those, seven belonged to teachers and administrators and 74 were assigned to students. The most common problem was broken screens."
There had been other reports that iPads deployed in schools suffer damage rates of up to 10%-15%, with accidental dropping being the most common. Schools that purchased rugged iPad cases face another problem — the cases are so thick that they don't fit in charging carts, such as the Bretford PowerSync line. iGearUnlimited designed a new product to address both problems – The iPad Slim Tough Case features a multi-layer construction that's supremely shock absorbent, a polycarbonate hard shell inner jacket that offers impact protection, and a slim profile to fit in the most popular charging carts.
In a survey conducted by iGearUnlimited of K-12 schools across the country, the company asked participants to name the most needed features of an iPad case for schools. The answers didn't surprise anyone:
1. A rugged case that can protect the iPad from daily use and abuse
2. Not too bulky – need to fit in the popular Bretford charging cart and kids' backpack
3. Built-in screen protector – easy to use, always on, no hassle protection of the iPad's screen
3. Built-in kick-stand that works in both vertical and horizontal orientations
4. Trackable – school's asset ID need show as a trackable barcodes on each case
5. Customizable – schools love to show their logo on each iPad case
6. Low cost – get the maximum amount of protection and features for the least amount of money
An overwhelming majority voted iGear's Slim Tough Case as their iPad case of choice because it's the only iPad case on the market designed to satisfy the needs of schools.
In a recent YouTube video, the company's Slim Tough Case was put through a 20ft drop test from a second floor window to a driveway. The iPhone escaped without a scratch, while recording video the whole time. See drop test video here. The same case design and level of protection is carried over to the iPad line as well.
Another unique feature of the Slim Tough Case the customization option. Using a Tough Skin decal, schools can print full-color logo artwork, asset tracking ID and barcode, and other information for each iPad, making managing multiple devices super easy.
"The iPad Slim Tough Case G2 is designed with school's needs in mind." says Jimmy Sun, president of iGearUnlimited.com. "It offers all the features technology directors ask for, and fits in the Bretford and other charging carts."
The Slim Tough Case is available from iGearUnlimited.com. Schools should contact the company directly for educational discounts. iGear also makes a custom photo case for the iPad, popular with schools' sports teams and other activity groups.
About iGearUnlimited.com
iGearUnlimited.com is powered by Sunrise Digital, an Inc. 5000 company established in 1988 and employs the most advanced equipment and technology, such as G7-certified HP Indigo and UV flatbed presses, and digital die-cutting, to create best-in-class products. A privately-owned enterprise, the company is based in Chicago and sells products worldwide.