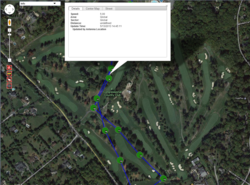 We're excited to use NowForce's tracking and incident management software to pinpoint the location of all of our teams. When an incident occurs, this will significantly improve our ability to respond quickly.
Chevy Chase, MD (PRWEB) June 24, 2013
Montgomery County (MD) Fire Rescue Service (MCFRS) announced that it is piloting a system by NowForce Inc., a developer of mobile emergency response solutions, to track its fire and rescue/EMS resources during the 2013 AT&T National golf tournament, which begins today at the Congressional Country Club in Bethesda, MD.
The AT&T National, one of the premier stops on the PGA tour, will feature 132 top PGA TOUR professionals from around the world, competing for their share of a $6.5 million purse. Over 25,000 daily spectators are expected to attend the week-long event, which raises funds and awareness for the Tiger Woods Foundation and pays tribute to the U.S. armed forces.
Dozens of local fire and rescue, EMS and law enforcement personnel are being utilized to ensure the safety and security of all spectators and participants, according to MCFRS Special Operations Section Division Chief Scott Goldstein, who is serving as the incident commander for the event. Each fire and rescue/EMS team deployed throughout the golf course is outfitted with a physical tracking device that transmits the team's location to the NowForce Command View Software Suite in the Public Safety Joint Operations Center for the event.
"We're excited to use NowForce's tracking and incident management software to pinpoint the location of all of our teams," said Chief Goldstein. "When an incident occurs, this will significantly improve our ability to respond quickly. The system will provide us with increased situational awareness of resource locations and allow us to better allocate our response resources. Additionally it will allow us to better adjust resource locations as the crowd/spectators move about the course," he added.
All of the temporary structures built for the event are layered via GIS shapefiles onto course and geophysical maps within the NowForce solution, enabling the Joint Operations Center to attain a complete operational picture throughout the event. Operations staff will be able to determine the exact location of all resources, critical for dispatching units to incidents and maintaining proper levels of emergency personnel for each area of the facility. The country club consists of two championship 18-hole course arranged on a 580 acre site.
"When someone calling in an incident starts describing nearby landmarks, even if these are temporary structures, we'll be able to correlate the event location and nearby emergency teams using the NowForce system," said Chief Goldstein "If, for some reason, we lose communication with one of our teams, NowForce will be able to tell us their last know location."
"At NowForce, our overriding vision is to help emergency response and security organizations reduce their response times to incidents, which can often mean the difference between life and death," said Assaf Shafran, CEO of NowForce. The company, with headquarters in Israel and a U.S. office in Washington, DC, offers state-of-the art mobile applications for first responders and SOS users, as well as a web-based dispatching system.
"We're gratified to conduct this pilot at AT&T National, right here in our back yard," Shafran said, adding that the system has been used for public safety and security at the Euro2012 soccer games and other smaller events around the world.
During the tournament, MCFRS and other agency partners will implement a Unified Command Structure, a component of the National Incident Management System (NIMS) Incident Command System (ICS). ICS is a set of personnel, policies, procedures, and facilities and equipment integrated into a common organizational structure designed to improve emergency response operations of all types and complexities. Field components that fall within ICS will be tracked using NowForce to deliver optimum response and situational awareness.
About NowForce Ltd.
Day in, day out, lives are being saved around the world by first responders using NowForce. NowForce offers comprehensive mobile solutions for emergency response and security organizations, enabling reduced response times, full situational awareness, and enhanced communications. NowForce keeps first responders connected to their organizations, even when off-duty or away from their vehicles, while fully respecting their privacy. The company's solutions make it simple for agencies to locate, communicate with, and dispatch the closest available responder to the scene. NowForce is an affordable, user-friendly solution for agencies of any size, available either as Software-as-a-Service (secured cloud) or as an on-site installation. Founded in 2008 with headquarters in Israel, NowForce's expanding global presence includes a US office and representatives in EMEA, APAC and South America.
Join fire, medical, law enforcement, and security agencies around the globe already using NowForce to redefine response. Learn more at: http://www.nowforce.com.
About Montgomery County Fire & Rescue Service
The Montgomery County (MD) Fire and Rescue Service (MCFRS), an Accredited Agency, is a full spectrum life safety organization protecting about 500 square miles and nearly 1 million people who live and work in Maryland's most populous jurisdiction. Under the direction of Interim Fire Chief Steve Lohr, the MCFRS is a combination system (career/volunteer) in the suburban Washington, D.C. area, operating with an annual budget of about $200 million dollars. The MCFRS annually handles about 105,000 emergency calls for service and is perpetually staffed by 1,200 career uniformed personnel and 1,100 volunteers.