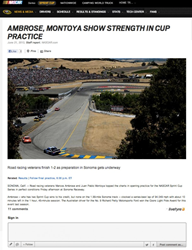 Our fans are very passionate, and with Livefyre they'll be able to share their reactions and add a new layer of depth to their NASCAR digital experience.
San Francisco, CA (PRWEB) June 24, 2013
Livefyre, the leading provider of real-time social software, today announced that it is now powering live fan conversations across NASCAR.com as part of the NASCAR's recently re-launched digital platform.
Using Livefyre's technology, fans will be able to have conversations in real-time across NASCAR.com, whether it be on a PC, tablet or mobile device, to discuss everything NASCAR from the latest in-depth news to live action on the race track. NASCAR fans will have the opportunity to bring others into the conversation by tagging friends on social networks like Twitter and Facebook to notify them that they've been mentioned. Fans can also share comments out to those networks for additional viral impact.
Marc Jenkins, NASCAR's vice president of digital media stated, "NASCAR's digital platform is all about deeper engagement and providing the ultimate second screen experience for our fans. Utilizing Livefyre on NASCAR.com allows us to give them a social experience to connect with NASCAR content and with one another. Our fans are very passionate, and with Livefyre they'll be able to share their reactions and add a new layer of depth to their NASCAR digital experience."
Jordan Kretchmer, Livefyre founder and CEO explained, "Livefyre is proud to be partnering with one of the country's most loved sports brands. The excitement and passion that draws fans to NASCAR is evident in their engagement with online NASCAR content and we're thrilled to provide them with a platform to ignite these conversations in real-time. Driving user engagement online is critical for marketers today and NASCAR.com is a great example of how brands are connecting with audiences to drive specific business goals."
The redesigned NASCAR.com launched Jan. 3, 2013, showcasing a new responsive design across a range of devices including tablets, mobile devices and personal computers. The entire digital experience was re-engineered to increase engagement around the live events, giving fans the opportunity to consume rich, comprehensive event information through dynamic video, bold imagery, new mobile apps, real-time leaderboards, fantasy gaming and in-depth news.
About NASCAR
The National Association for Stock Car Auto Racing, Inc. (NASCAR) is the sanctioning body for the No. 1 form of motorsports in the United States. NASCAR consists of three national series (the NASCAR Sprint Cup Series, NASCAR Nationwide Series, and NASCAR Camping World Truck Series), four regional series, one local grassroots series, three international series and GRAND-AM Road Racing and the American Le Mans Series, both known for competition on road courses. Based in Daytona Beach, Fla., with offices in eight cities across North America, NASCAR sanctions more than 1,200 races in more than 30 U.S. states, Canada, Mexico and Europe. For more information, visit http://www.nascar.com and follow NASCAR at http://www.facebook.com/NASCAR and Twitter: @NASCAR.
About Livefyre
Livefyre is bringing social to the rest of the web, helping brands build engaging real-time conversations and community around their owned content. The company's suite of real-time products are defining a new breed of web and mobile experiences that boost website traffic, increase user engagement and drive revenue. As the sixth largest network online, Livefyre is powering real-time social experiences for over 200 leading brands including American Idol, AOL, Bravo, CBS, Conde Nast, Dow Jones/WSJ, FOX, Newsweek/Daily Beast, Showtime, Sports Illustrated and The New York Times.
Founded in 2009 with offices in San Francisco and New York, Livefyre was named one of the best places to work in the Bay Area by the San Francisco Business Times. For more information, visit http://www.livefyre.com.