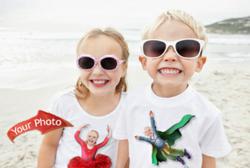 "As soon as I put my son in the shirt he was so excited! He just kept walking around the house saying "That's me!" - bargainswithbrittanie.com
Los Gatos, CA (PRWEB) June 24, 2013
The June sunshine is cracking the flags providing the perfect backdrop for family bike rides and summer hiking trips.
However, even the fittest of riders and walkers are bound to feel the need to quench their thirst and what better way to bring carry-refreshments with than in a Flattenme personalized water bottle.
Whether children wish to become a Moon Fairy, Royal Princess or an Astronaut, Flattenme can turn their dream into reality by morphing their face onto their desired character, all of which are created with bright colors and beautiful artwork, with a total of eight to choose from.
Options include: Moon Fairy, Twinkle Toes, Swishy Tails, Super Sipper, Royally Awesome, Blast Off!, Rockin' Out and Don't Play With Matches.
The personalized water bottle is made from stainless steel, carries 20 oz of water and is BPA free, acting as the perfect vessel for your refreshment. At a bargain price of just $24.95, the bottle will pay for itself as it's totally refillable and eliminates the need to stop at the store.
For more personalized summer fashion, flattenme also offer super smart t-shirts that once again allow children to imprint a personalized character on their clothing.
The custom shirts come in the same character varieties as the water bottle as well as a super fun extra option of using the face of the child's real life super hero on their personalized shirt. Whether it is Mom or Dad, they can literally walk around with their parent's eyes on them all day.
Flattenme custom t-shirts will make children stand out from the crowd and work towards providing hours of imaginative play, allowing them to elaborate on the character that they have created straight from their own storybook in their head. Who needs video games?
Priced at just $27.95, they allow children to become a walking, talking piece of art while stimulating the mind and showing off each little person's individuality.
Flattenme delivers products that blur the lines of imagination and real life with an element of personalized fun as well as offering a thoughtful gift that becomes a keepsake when the child has outgrown it.
###
Flattenme also offers custom wall art, cards and personalized books. It was founded by CEO, Margo Redfern, after creating a picture book of her daughter eating a gobstopper. Margo ran with the concept that life is all about telling stories and flattenme was born.