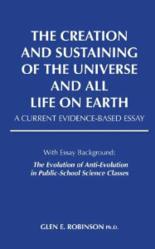 Davidson, NC (PRWEB) June 25, 2013
For more than 150 years, bitter controversy has raged over one of the most profound questions of our time: Which of two ways was the Universe and all life on Earth created? One is called Creationism; the other is called Evolution.
"While much has happened through the years, most arguments during this high-tech era are much the same as those used a century ago," states Glen E. Robinson, author of the new book, The Creation and Sustaining of the Universe and All Life on Earth: A Current Evidence-Based Essay. Robinson asserts that "There is urgent need for a fresh and current examination of the information now available on these issues."
He explains, "This essay provides current evidence in a fair, just, objective and easily understood manner pertaining to the two contrasting explanations for the amazing accomplishment of creating, sustaining and changing the universe and all life on planet Earth.
Prominent internist, Dr. Samuel H. Hay, agrees. "This book presents a clear, thorough, accurate, and compelling essay on a vital issue in the life of the country. Having read the essay, I am so much better informed about the intellectual, moral and legal issues that encompass this broad and important subject."
To help understand the urgent need for a fresh examination of the current evidence now available pertaining to these issues, a background summary is appended to the essay, titled: The Evolution of Anti-Evolution in Public-School Science Classes.
Robinson's unique evidence-based essay speaks directly to the concerns of millions of people across the U.S. Indeed, the book is dedicated to the current generation of American youth, notes the author, "so that they might decide for themselves how the Universe and life on Earth were created, are being sustained and changed, and thus be better prepared to live, learn, enjoy and participate in this fascinating scientific age."
Glen E. Robinson is President Emeritus of Educational Research Service, the research arm for school management, and former Director of the National Education Association (NEA) Research Division. He is 89 years old and served as an infantry officer in WWII and the Korean War. He is a former public school science teacher and Sunday school teacher of teenage youth.