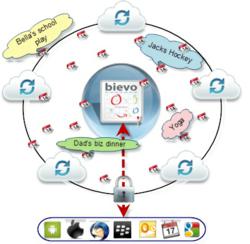 We are proud to announce the release of Bievo Adaptive Community Calendaring Server 2.0. Local calendars of interest are served to our users whenever they log in. Why search when Bievo puts it right in front of you? Leave it to Bievo! - Lynn Hurley, CEO
Concord, Massachusetts (PRWEB) June 25, 2013
Bievo [bee-voh], a global network of events and calendars is a unique system that streamlines event sharing. Similar to calendar listings in your local newspaper, Bievo covers all sorts of organizations and activities in your local area. Bievo finds and serves up to you local calendars of interest, provides family calendar management and integrates seamlessly with all your remote devices. (iPhone, Android, iPad, etc.)
Now easily find existing calendars in your area or create one for others to share.
We serve you youth sports, museum, church, school, entertainment, veteran and fraternal organization and municipal calendars, to name a few. In fact, with Bievo Adaptive Community Calendaring, we provide easy access to all Internet Calendars in your area.
"We are very excited to offer parents the ability to easily search, click, sync and have their family's complicated schedules instantly organized." says CEO Lynn Hurley.
Hurley further added, "Stay tuned for the upcoming release of the upgraded Bievo for iPhones. We are replacing our CalDAV server, with which we currently support our iPhone customers, with our own iOS app. Once an iPhone user installs our app, more easily organize events across all of their devices calendars."