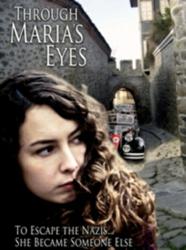 If Maria and her sister can deal with this, then what can you deal with!
Los Angles, CA (PRWEB) June 24, 2013
It seems that the largest Holocaust museum in the US has included only a minor mention of what happened in Hungary, during the Holocaust, until now.
The U.S. Holocaust Memorial Museum in Washington D.C. will be including a copy of the book, "Through Maria's Eyes," in their permanent collection.
"Through Maria's Eyes," is based on the dramatic life story of one of the last living survivors of the Nazi occupation of Budapest, Hungary.
Gizella, a poor young Jewish woman, tries to evade the SS troops who enter the Hungarian capital of Budapest in 1944 to begin deportations, by taking on the role of Maria, a Hungarian Christian. She hides in plain sight of the Nazis and maintains a callous exterior, as not only her life, but those of her family depend on it.
"Through Maria's Eyes," is based on screenplay and was novelized by Linda Sunshine and David Rich. American historian and political scientist, Randolph L. Braham, who is also a specialist in comparative politics and the Holocaust has agreed to consult on the film.
"As filmmakers we are thrilled to have acclaimed historian Professor Braham consulting on our film, especially as we are focused on such a defining moment in the twentieth century," states Producer David Rich.
In the 1998 Oscar-winning Academy Award for Documentary Feature film The Last Days, Professor Braham provided overviews of the Hungarian Holocaust. Steven Spielberg was one of the executive producers, in his role as founder of the Shoah Foundation, which produced the film.
Professor Braham has also served as a member of the Academic Committee of the United States Holocaust Memorial Museum, Washington, D.C., and as a special advisor for the Museum of Jewish Heritage, New York. His works were used as major source books by courts of law in various countries, including Canada, Germany, Israel and the United States in cases involving restitution and war crimes.
About DB RICH PRODUCTIONS
DB Rich Productions, founded in 2008, has other projects in development. "The Lighthouse," a dramatic thriller starring Danny Glover is currently in post-production, and "Margarine Wars," a romantic comedy set during America's Summer of Love is with their distributor Ytinifni Pictures for worldwide distribution. In addition, DB Rich Productions will be actively seeking partners and pre-sales for their next project, "Through Maria's Eyes." A movie based on a true story of survival against insurmountable odds, and recently debuted the Ani-mentary "Actor? A Documentary" at the Cannes Film Market.
MEDIA CONTACT:
Annie Jeeves / Toula Mavridou-Messer
Cinematic Red
Phone: 323.834.9733
Email: annie(at)cinematicred(dot)com / toula(at)cinematicred(dot)com