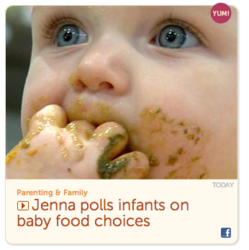 When it comes to baby food, it's more than just your baby needs to be fed. It's about choices.
Charlotte, NC (PRWEB) June 24, 2013
Jenna Wolfe with The TODAY Show came to Charlotte, NC to preview The Baby Grocery Store to learn about baby's first foods and beyond. Wolfe, who is currently pregnant with a baby girl due in August, has been blogging about her pregnancy and adventure into motherhood. Visiting The Baby Grocery Store and learning about organic baby food is just one of the ways she is preparing for her new role as a Mommy.
The segment focused on an in-store demo where The Today Show anchor learned how to prepare homemade baby food. After the demo, they toured the store and learned about other organic baby food brands that The Baby Grocery Store carries.
The segment aired on the TODAY Show on Sunday, June 20th, 2013. You can watch the segment at http://www.today.com/video/today/52288151. To reward viewers, The Baby Grocery Store is offering $10 off any purchase of $40 or more by entering the promo code "Today" at the checkout.
About The Baby Grocery Store
The Baby Grocery Store has created a unique all-inclusive shopping experience that is revolutionizing how parents shop for baby essentials. They stock all-natural, organic and non-GMO food products that satisfy even the pickiest eaters. They also carry everyday necessities like cloth and biodegradable diapers, wipes, personal care items, carriers and slings, toys, and household items that come from companies that care about minimizing their environmental impact and maximizing your child's health and safety. For online shopping, store events, resources and more, visit http://www.thebabygrocerystore.com