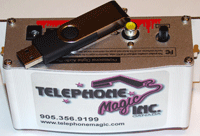 We have priced our new USB on hold message system well below the traditional cost of digital playback equipment. This is especially important for small companies that wish to project a big business image, but need to do it at a low cost
Niagara Falls, New York (PRWEB) June 26, 2013
Telephone Magic Inc. has been providing Message On Hold system equipment and On Hold Message productions since early 1989. A leading online supplier of business On Hold Messages, Telephone Magic has now released a new USB Message On Hold system, improving the design of original MOH players by adding an external speaker which allows business customers to preview on hold messages.
Jeff Jackson, President of Telephone Magic Inc. indicates "We have priced our new USB on hold message system well below the traditional cost of digital playback equipment. This is especially important for small companies that wish to project a big business image, but need to do it at a low cost. It is also helpful for businesses with multiple locations that want to implement a music and voice phone on hold program with reliable hardware."
Phone audio messages are stored on the new Telephone Magic USB system unit on a removable USB Flash drive which plugs into a USB hub. The new hardware allows users to load audio easily by "dragging and dropping" MP3 audio files without the use of special software. Music and voice audio production files are emailed directly to clients without the need to ship physical media. Gone are the days when a CD or tape had to be shipped via courier at an additional cost to business customers.
MP3 audio files are a widely accepted audio compression format. MP3 sampling rates can be utilized in the new Telephone Magic hardware ranging from 32 to 256 kbps, depending on the quality a business requires. No additional software is required to load MP3 files to the new telephone Magic USB flash drive. Up to six audio tracks can be chosen or a "play all" feature is available by pressing a button on the side of the unit.
The process of receiving message on-hold updates is easy with the new Telephone Magic phone On Hold player. Users remove the USB flash drive from the unit and plug into the USB port of a computer. Audio files are then loaded via a "drag and drop" transfer from the computer into the USB flash drive. When users plug the flash drive back into the USB On Hold Message player, audio playback is instantaneous.
Business on hold message production files can simply be emailed when it is time for messages to be updated and changed. Users save the MP3 file to the USB flash drive and load it into the new Telephone Magic USB Message On Hold hardware.
As per Mr. Jackson "Our USB telephone on hold message player is intended for use in business applications that include message-on-hold and in-store music or announcements. The system has a constant power source and the solid-state memory will re-boot the audio playback automatically after a power outage. This means there is no need to reset the unit when the power's been out."
Telephone Magic added a durable aluminum case which can withstand rugged phone room conditions and reduces possible RF interference. The compact design and visible flanges ensure an easy installation on the telephone system room wall. This allows for a business office to easily implement a phone on hold program.
Telephone Magic's USB On Hold Message hardware offers two different outputs which are designed to provide adequate volume for any business phone system. Users can also adjust desired bass and treble levels to match the impedance level of the specific phone equipment in place.
The Telephone Magic USB Message On Hold player improves the design of original digital On Hold Message systems with the addition of an external speaker which allows the owner to preview on hold messages right at the unit after uploading them to the USB key.
About Telephone Magic Inc.
Telephone Magic is in its 25th year in business as one of the original Message On Hold production companies. Business clients receive customized On Hold Messages with appropriate licensed music and professional male or female broadcast announcer voice-overs which create a professional way to "Inform and Entertain Callers While They Wait On Hold".