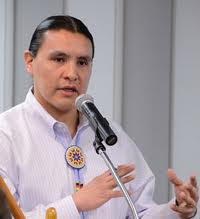 Legitimized cultural genocide - that's happening right here. We lose over 700 kids a year - Attorney Chase Iron Eyes
Rapid City, SD (PRWEB) June 24, 2013
According to Lakota People's Law Project Chief Counsel Daniel Sheehan, United States policy toward Native Americans has focused on assimilation since the days of mandatory boarding schools in which children were taken from their families and tribes and were brutally forced to leave their language and customs through physical and psychological abuse. Sheehan alleges that this policy of racial discrimination and cultural destruction has continued due to widespread non-compliance with the Indian Child Welfare Act of 1978 which was intended to reverse US policy toward American Indians.
In an opening address to the High Plains ICWA Council meeting in Rapid City, SD, on May 15 former South Dakota senator James Abourezk who authored the Indian Child Welfare Act, stated that compliance with the letter of the law and the intent of Congress has been very poor.
A special 2012 report to Congress by the ICWA directors of the nine Lakota tribes in South Dakota confirmed information presented in a 2011 Peabody Award winning NPR expose by Laura Sullivan "Native Foster Care: Lost Children, Shattered Families" documenting activities that appeared to violate ICWA on a systematic basis.
The Lakota People's Law Project recently published a special report on the Mette Case (case # CR 10-11-13; Fifth Circuit Superior Court of South Dakota) as an alleged example on a non-ICWA compliant placement of Native Foster children outside their families and tribe. The report is titled "Abandoned and Forgotten: How the State of South Dakota Punished Lakota Child Welfare Advocates and Protected Child Abusers — The Mette and Taliaferro/ Schwab Cases." This is the appalling story of the placement of native children with Richard and Wendy Mette in Aberdeen, SD in an apparent violation of ICWA. The children's complaints of physical and sexual abuse were ignored by authorities. When assistant State's Attorney Brandon Taliaferro and court appointed special advocate Shirley Schwab launched an investigation which led to the arrest and indictment of the Mette's, State officials charged them with getting the children to lie about their abuse. The State gave Mette a plea agreement and Schwab and Taliaferro were exonerated by a directed verdict of acquittal in their trial before presenting their defense.
"Law and Disorder", produced by Geoff Brady, focuses on legal issues and is hosted by the President of the Center for Constitutional Rights Michael Ratner, Heidi Boghosian Executive Director of the National Lawyers Guild and civil rights attorney Michael Steven Smith, a member of the National Lawyers Guild. Law and Disorder Radio is also syndicated on 24 terrestrial radio stations across country. Law and Disorder began airing weekly shows in 2004.
Now on contract with the Standing Rock Sioux Tribe, The Lakota People's Law Project has been partnering with tribes and leaders in South Dakota since 2005 from its offices in Rapid City, SD and Santa Cruz, CA. LPLP is providing technical support for the tribes to gain direct federal funding for the development and operation of their own child and family service programs.
The project combines public interest law, research, education, and organizing into a unique model for advocacy and social reform.
The Lakota People's Law Project is sponsored by the non-profit Romero Institute based in Santa Cruz, California. The Institute is named after slain human rights advocate Archbishop Oscar Romero of El Salvador. The Institute seeks to identify and dismantle structural sources of injustice and threats to the survival of our human family.