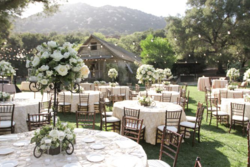 What an ideal place to get married… at least from my point of view.
Temecula Valley, CA (PRWEB) June 24, 2013
In the movie "Sideways", two men travel to one of California's wine country as a precursor to one of them taking the lifelong commitment of marriage. On June 20th, 2013, a couple took it a step further and read their vows to one another directly in California's southern wine country at Temecula Creek Inn. According to their website, Nestled in the rolling hills of California's other wine country, Temecula Creek Inn is perfect for a weekend getaway, wedding, corporate retreat, or as a base for a Temecula Valley winery tour.
Much of the fun took place in a 5x5 white cabana photo booth rental equipped with outrageous props including hats, boas, glasses, masks and other miscellaneous items. The booth was provided by Orlando-based company, Peekaboo Photo Booth.
Andrew Birr, owner of Peekaboo Photo Booth states, "I'm a lover of wine and I got a chance to tour through the wine country down in Southern Cali when I started this company about 6 years ago. I know Napa Valley, Sonoma Valley, and the others up north are the ones people most think of as far as wine country, but Temecula is definitely formidable in beauty and some excellent wine. What an ideal place to get married…at least from my point of view."
About Peekaboo Photo Booth
With more than five years of experience, Peekaboo Photo Booth (http://www.peekaboophotobooth.com/orlando-photo-booth-rental/) has completed more than 1,000 successful events. The company offers classy, cabana-style booths that are easy to set up and simple to use. Based in Winter Park, Fla., Peekaboo Photo Booth is a privately owned firm that offers services nationwide. In addition to operating in the Orlando area, the company also has a presence in the following metropolitan areas: Phoenix, Miami, Los Angeles, San Francisco, San Diego, Houston, Dallas, Washington D.C., Philadelphia, Boston, Atlanta, Seattle, Chicago, and Detroit. Peekaboo Photo Booth has been in the Photo Booth Rental Business for over five years and celebrates a nationwide footprint servicing both private and corporate events.