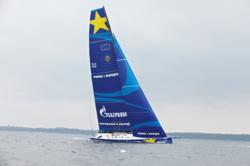 Jochen Schümann led the Esimit Sailing Team to the monohull course record in front of thousands of spectators at the world renown Kieler Woche
Kiel, Germany (PRWEB) June 24, 2013
Kieler Woche (Kiel Week) lived up to its reputation, as the biggest sailing event in the world saw 3 million visitors, 5000 sailors, and 2000 sailing yachts. The Esimit Europa 2 yacht successfully completed its first-ever performance outside the Mediterranean by crossing the finish line as the first sailing yacht at both races it took part in between the cities of Kiel and Eckernförde.
"At Esimit Europa, we only aim at top performances. Through cooperation and constant innovations we strive to reach perfection in every field, reflecting Europe's potential. Setting the monohull course record at the Kieler Woche therefore has a special meaning to me – on one hand, we have proved once again that we have impeccably prepared ourselves and the yacht. On the other, I was honoured by the presence of executives from GAZPROM Germania. Their deep commitment to the Esimit Europa project as the main sponsor of the yacht gives us great inspiration to continue with excellent performances, starting with the ÅF Offshore Race in Sweden in just a couple of days," said Igor Simčič, founder of the Esimit Europa project.
"Sailing embodies team spirit, innovation, strategy, and competition – all attributes with which GAZPROM identifies. That makes us even happier to be partners to the Esimit Europa 2 and take part in the world's largest sailing event," added Burkhard Woelki, director of corporate communications at GAZPROM Germania.
With the elapsed time of 2 hours and 8 minutes at Kieler Woche's Welcome Race, Esimit Europa 2 proved once again to be the fastest sailing yacht in Europe. Esimit Europa 2's skipper Jochen Schümann was pleased with the overall performance of the yacht and its crew at the Kieler Woche: "Those were two very exciting races for me and I am happy to see that all the modifications we have made since the end of the last season and new sails were very well put in the practice. From the racing point of view we haven't made any mistakes. We set our minds into setting new monohull record and I am glad we have made it."
In occasion of Kieler Woche, the Esimit Sailing Team also met with Olaf Thon, former FC Schalke 04 captain and member of the 1990 FIFA World Cup winning side.
"It was great to meet Olaf, a true German football champion and devoted honorary captain of FC Schalke 04. By exchanging our official T-shirt and flag, we have expressed mutual support between two successful sports teams. Although we are competing in different sports, we are both highly accomplished international teams, with exceptional team members from various countries, aiming to perform at the top level," said Jochen Schümann.
"Whether at Schalke arena or off the coast of Kiel, us sportsmen are aiming to bring the best people from different nations together. What makes Esimit Europa 2 special is its European vision. "All Europeans Together on the Same Boat" is more than just a slogan – because here, like at Schalke, is an international team fighting for the win. I wish Jochen and his team all the best for the rest of the season," added Olaf Thon.
Contact:
Gorazd Mauri
+39 366 675 90 92
gorazd(dot)mauri(at)esimit(dot)com
http://www.esimit.com