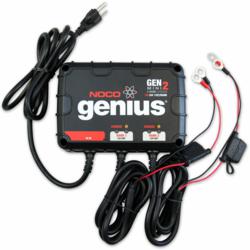 The GEN Mini could be one of our most significant product releases this year...
CLEVELAND, OH (PRWEB) June 24, 2013
NOCO Genius® today released its latest models to its On-Board Waterproof Smart Battery Charger product line. The GEN Mini On-Board Smart Chargers is an extension to NOCO's already popular GEN Series On-Board Chargers, which are used by many of the leading boat manufacturers and professional bass anglers. GEN Mini is lower in amperage than the GEN Series, but is designed to be more affordable to consumers that might not need the additional power of the GEN Series chargers. It features a stunning new look, three levels of redundant waterproofing for a secure and completely waterproof design rated at IP68, a Recovery Mode that can repair damaged areas of your battery and bring it back to life, a stabilizing charge that optimizes the specific gravity of a battery for increased battery performance, and updated LED indicators for a refined user experience. Although most onboard battery chargers have traditionally been used in professional and recreational marine markets, GEN Mini is designed to bring performance and durability to multiple consumer segments, such as, automotive, marine, RV, off-road, industrial and much more.
"The GEN Mini could be one of our most significant product releases this year," said Luke Case, NOCO's Vice President of Global Sales. "We really see this product being useful to so many consumers beyond the marine market segment. GEN Mini can continue to be used on boats, but also could be in your car's engine compartment, on a golf cart, a lawn mower, or even an earth mover."
"What we really wanted to do was to provide all consumers with an affordable solution with all the same features as our powerful GEN Series chargers. On-board chargers installed in a marine application are not just exposed to the elements, but also experience significant wear and tear through constant charging demands. Consumers can now experience this added performance on automobiles, RVs, off-road vehicles or virtually any motorized vehicle," said William Buzdon, NOCO's Vice President of Operations.
GEN Mini introduces its popular Recovery Mode that is found on its G Series Smart Battery Chargers. Recovery Mode is a built-in battery desulfation mode that can repair damaged areas of your battery and bring it back to life. Through advanced pulse technology designed by NOCO, it can break down damaged areas of the battery and return them to active material - improving battery capacity.
Specific Gravity Optimization is just another one of NOCO's cutting edge features that not only extend battery life, but helps avoid battery sulfation and increase performance. "Typically, it's the last 10% of charging where most other chargers fall short, which can lead to decreased run time, increased potential for battery sulfation, and shorten battery life," said Rick Stanfield, NOCO's Chief Technology Officer.
The GEN Mini On-Board Smart Battery Chargers are designed for 12-volt lead-acid batteries from 20-120 ampere hour and can maintain all battery sizes. It is safe to leave connected indefinitely, and can interactively diagnose, recover, charge and maintain Wet, Gel, MF and AGM batteries. It's a smart charging solution for cars, boats, RVs, ATVs, snowmobiles, trucks, lawn mowers, tractors, off-road, and other related vehicles.
Additional GEN Mini features include:
-100 percent waterproof design
-Automatically recovers sulfated batteries
-Charges multiple battery chemistries
-Designed for user safety
-Protects against abnormal conditions
-Compact design
-Optimizes a battery's specific gravity
-Charges 2X faster than traditional chargers
-Works with varying AC voltages
-Ignition protected
GEN Mini On-Board Smart Battery Chargers are ETL approved for United States and Canada and come with a 5-year limited warranty. The GEN Mini will be available in a 220-volt version later this year for international markets.
The GEN Mini On-Board Smart Battery Chargers pricing starts at $75.95. For further product information, please visit the NOCO Genius website at: geniuschargers.com
About NOCO
The NOCO Company designs and creates innovative battery products and accessories. NOCO Genius is a leader in the smart charger revolution with its G Series, GEN Mini and GEN Series smart battery chargers. NOCO continues to reinvent the way consumers use and interact with their batteries, and is dedicated to redefining the future of multiple consumer aftermarkets. For almost 100 years, the NOCO name has been synonymous with quality, reliability and dependability.