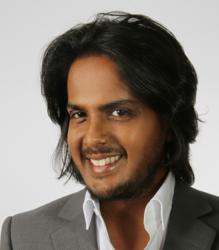 Service design has emerged as one of the most valuable approaches for creating meaningful and engaging customer experiences.
Sarasota, FL (PRWEB) June 24, 2013
Ringling College of Art and Design today announced that atLarge, Inc., a global consultancy focused on digital business strategy and design with offices in Sarasota, Florida and Manchester, England, has claimed the top sponsorship position as the Presenting Sponsor for the 2nd International Service Design + Tourism Conference. The Conference, also known as SDT 2013, will be held at Ringling College of Art + Design's Sarasota campus on November 7-9, 2013.
"Anand Pallegar and his atLarge, Inc. team are visionaries who have shaped the success of world-class travel and destination industry organizations," said Dr. Larry R. Thompson, president of Ringling College of Art and Design. "They are a perfect fit as the lead sponsor for SDT 2013. We are excited to have their support, as well as that of VISIT SARASOTA and The Ringling, and look forward to collaborating with them to deliver an outstanding experience for all of our attendees."
VISIT SARASOTA, the city's convention and visitors' bureau, and The Ringling, formerly known as The Ringling Museum of Art, are also confirmed as Gold and Venue sponsors, respectively.
SDT 2013 will convene designers from various disciplines—travel and tourism industry professionals, and faculty and graduate students from tourism and hospitality, design, and business schools—to explore the practical application of service design in the tourism industry.
"Service design has emerged as one of the most valuable approaches for creating meaningful and engaging customer experiences," Anand Pallegar, founder of atLarge, Inc. stated. "It is a key practice area for our firm, which has always embraced interdisciplinary methods to push our clients' results to new heights."
Speaking about the impact of service design on the tourism industry in particular, Pallegar noted that his firm has seen how service design practices "have transformed tourism and hospitality clients' businesses by helping them to create more distinctive offerings that their customers love, while ensuring exceptionally consistent delivery and optimal results."
SDT 2013 will offer three full days of tours, networking events, general and breakout sessions, and workshops designed to give attendees a raft of new ideas for reinventing their organizations' services or innovating new ones.
The first Tourism Service Jam to be held in the United States will be hosted on November 7 at the Ringling College's Longboat Key Center for the Arts. Led by Global Service Jam initiator Markus Hormess of Work Play Experience and Marc Stickdorn, lecturer at Management Center Innsbruck (MCI) and lead author of This is Service Design Thinking, the Tourism Service Jam will bring together diverse conference participants to develop and prototype completely new services inspired by a shared theme. Their collection of brand new services will be shared at SDT2013 on November 9 and later published to the world.
A Call for Papers is now open for those interested in submitting proposals for breakout sessions and workshops. Submissions will be accepted via the web site, http://www.sdt2013.org, through July 1. Selected presenters will be notified by August 12. The six best academic submissions will be invited to publish a full paper in the Journal of Vacation Marketing.
Ringling College is partnering with Management Center Innsbruck (MCI), the host of the inaugural Service Design Tourism Conference, SDT 2012, to produce the event. SDT 2012 took place in Innsbruck last August and was the first international conference on service design thinking in the travel and tourism industry. The Conference was the closing event of a multi-year, multi-national project to study service design in tourism. The project was underwritten by the European Union's CIP Competitiveness and Innovation Framework Programme and hosted by MCI's Department of Tourism.
Additional sponsorship opportunities for SDT 2013 are still available. For more information, contact Michelle Bauer at michelle(at)common-language(dot)com. Registration information and other details can be found at http://www.sdt2013.org.
About Ringling College of Art and Design
Ringling College of Art and Design is a private, not-for-profit, fully accredited college offering the Bachelor's degree in 14 disciplines: Advertising Design, Business of Art & Design, Computer Animation, Digital Filmmaking, Fine Arts, Game Art & Design, Graphic Design, Illustration, Interior Design, Motion Design, Painting, Photography & Digital Imaging, Printmaking, and Sculpture. Located in Sarasota on Florida's Gulf Coast, the picturesque 48-acre campus now includes more than 110 buildings, and enrolls 1,368 students from 44 states and 53 countries. It is recognized as being among the best and most innovative visual arts colleges in the United States as well as a leader in the use of technology in the arts. Visit http://www.ringling.edu for more information.