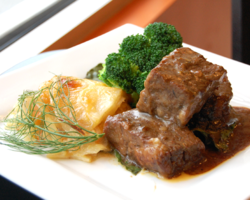 Wow, it just isn't worth the time and hassle to cook at home anymore.
Berkeley, CA (PRWEB) June 25, 2013
Prominent Silicon Valley incubator funded food start-up SpoonRocket.com just launched in Berkeley, California to provide affordable artisan dinners delivered to residents' doors. Their executive chef, David B. Cramer, recently just joined the team, leaving behind his storied career in Napa and Yountville having led some of the top fine dining restaurants in the world. The founders approached David with the vision to provide everyone in the world an alternative to cooking at home, and right away, he believed the vision could change the world and wanted to be a part of it. Their menu changes every day, using the freshest ingredients of the day. SpoonRocket currently offers dinners for $6 with no delivery fee, some of their most popular items include Braised Short Rib and Crimini Brochette. There are always 2 items on the menu each day, one catered toward vegans and the other the masses.