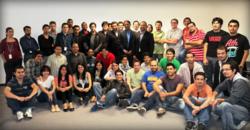 We have found that customers struggle to find the right talent within the United States and are willing to outsource their product development. ~Guillermo Ortega, COO of iTexico
Austin, TX (PRWEB) June 24, 2013
Austin-based iTexico, a software and technology solutions company focused on providing mobile development services, announces a new thought leadership series focused towards American Companies. iTexico will be providing a series of online seminars or webinars educating attendees about nearshoring and Mobile app development best practices.
"Mexico is a place of opportunities, even for Americans. We have found that customers struggle to find the right talent within the United States and are willing to outsource their product development. However, they don't like the time differences with offshore countries and are often bothered by the amount of issues that can occur with such dynamics. We offer a different approach, by having people trained and experienced in web and mobile technologies as well as experienced designers and testers; the whole lifecycle, the full package," said Guillermo Ortega, COO of iTexico. Guillermo will be leading the first webinar on Nearshore in June 26th along with David Sandoval, Marketing Manager to discuss the primary benefits of Nearshoring mobile application development.
iTexico supports American Companies by providing their talented Mexican developers and designers as an extended team as a service as part of the highly successful nearshore model. The company now counts with more than 60 employees in its Global Delivery Center in Guadalajara Mexico and has recently expanded its operations to Silicon Valley, California. The entire company is excited to start providing a new service: thought leadership webinars sharing best practices in Mobile App development and nearshoring.
"By nearshoring all of our mobile application lifecycle services to our highly specialized team in Guadalajara, Mexico, we make sure that our clients receive the best possible value without compromising on quality and allowing them to maintain a clear and constant communication with our team, scale when needed and have their product created just as they envisioned it," said Anurag Kumar, CEO of iTexico.
iTexico will be bringing more webinars in collaboration with partners and industry leading organizations. This will allow the company to continue to share the best practices, innovate using the latest mobile technologies, as well as continue to provide mobile development services and training courses in cross-platform technologies like Appcelerator Titanium and native languages for iOS and Android development.
iTexico aims to provide a valuable, high-quality alternative for US companies to rapidly build mobile applications and other software products as well as extending their development teams with talent based in Mexico. iTexico started with only a handful of people with a large mission. As of the beginning of 2013, the company has now more than 60 employees and offices in Austin TX, Silicon Valley and a Development Center in Guadalajara, Mexico. The company now serves dozens of customers from all over the US and other countries in Latin America and Europe.