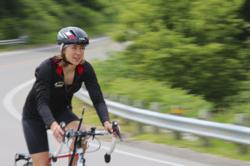 Jessica hopes to reach health care practitioners
Wawa, Ontario (PRWEB) June 24, 2013
After two full days of cycling through Northern Ontario, Jessica VandenBussche is beginning to understand the meaning of the word "Challenge". VandenBussche and riding partner Theo Vanderlee are undertaking the Strong Free and Happy bicycling tour to raise awareness of the benefits of exercise; unite communities over sustainable physical activity; and help the Canadian Mental Health Association with their mission to improve mental health resources.
Day one proved to be cold and rainy, with VandenBussche and Vanderlee pushing through strong headwinds to travel 144 kilometres. Day two saw the pair conquer 120 kilometers of pavement, with better weather and lighter winds, but with more hills.
"It was tough, but not as tough as the challenge someone faces when they are suffering depression or another mental health disorder," said the 24 year-old kinesiology graduate.
Mental illness accounts for 14% of the world's diseases. Nationally, 1/5 of Canadians will experience a mental illness in their lifetime. Many more will be affected by it, through a friend or loved one who suffers. There are many treatment methods, but, says VandeBussche, "there is no one 'best practice' for treating mental illness. Medication is not always effective, and psycho-therapy is financially out of reach for many Canadians." But VandenBussche points out that physical activity is one form of treatment that is free, accessible, sustainable and potentially highly effective.
Through the ride, Jessica hopes to reach health care practitioners, teachers, student leaders, mental health workers, police and fitness experts to start a dialogue on the connection between mental health and physical fitness.
The northern leg of her journey continues from Marathon to Providence Bay from June 21 to the 29th. .
June 23 Marathon/Wawa
June 24 Wawa/Batchawana Bay
June 25 Batchawana Bay/Laird
June 26 Rest Sault Ste. Marie
June 27 Laird/Blind River
June 28 Blind River/Providence Bay
For a complete schedule and route map please visit the website at
http://www.strongfreehappy.ca/
https://www.facebook.com/StrongFreeHappyAcrossCanada
@strongfreehappy
Questions can be directed to: Kelley McNamara 519-909-8966 strongfreehappy(at)gmail(dot)com