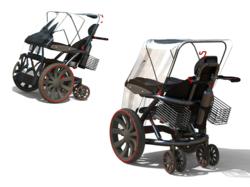 Sylmar, California (PRWEB) June 25, 2013
The adjustable Adult Mobility Device is a sleek, modern-looking, wheelchair. It is not only pleasing to the eye, but its shock absorbers will offer a cushioned ride, minimizing jarring. It also adjusts to several comfortable positions. Its unique weather shield will protect the rider from the sun's rays and will also keep rain and wind from impacting the rider. The AMD has been issued a U.S. Patent and is awaiting engineering. Cascio Enterprises, LLC is seeking a licensing agreement.
Cascio Enterprises' Goal: To improve the quality of life for individuals with mobility and/or vitality issues, by allowing them greater access to the world.