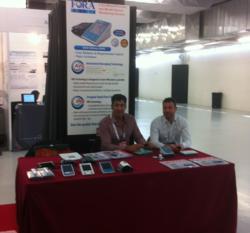 MILAN, Italy (PRWEB UK) 25 June 2013
Tesi, located in Milan, Italy showcased a new offering of health monitoring products at the recent European Society of Hypertension (ESH) that promise to change the way people personally manage their blood pressure, blood glucose and other important health parameters. Tesi partners with Gallen, Switzerland-based Fora Care Suisse to provide state-of-the-art monitoring devices that integrate with its tele-health system to the marketplace.
The company presented a new thermometry device, the FORA IR19 that can detect abnormal temperature in the feet to alert the user and medical advisors to associated risk of diabetes–related foot ulcers. They also demonstrated the new FORA COMFORT glucometer as well as two blood pressure monitors, the FORA ACTIVE Plus (P30 Plus) and the FORA DUO Ultima D40b combination glucose and blood pressure monitor, both providing advanced Bluetooth enabled connectivity to Gateway that uploads data to the Tesi tele-health software.
"We were pleased to introduce our comprehensive offering of remote monitoring tools to the experts at ESH and continue to build relationships with clinicians and researches looking for smart devices that can improve patient compliance, patient care and patient outcomes," said Mr Matteo Rossi, President of Tesi Home Care.
The blood pressure monitors are equipped with AVG, a mode that allows the averaging of three consecutive blood pressure measurements for optimal accuracy and IRB technologies that can detect irregular heartbeats, both tested in accordance with the ESH 2010 guidelines.
To view product information, visit these two links: http://www.dableducational.org/sphygmomanometers/devices_2_sbpm.html
http://www.dableducational.org/sphygmomanometers/devices_1_clinical.html
About Tesi: http://www.tesi.mi.it/
Contact:
Matteo Rossi
mail(at)tesi(dot)mi.it
+39 02 21.711.922
About ForaCare Suisse AG: http://www.foracare.ch
Contact:
Elena Birrer
Elena.birrer(at)foracare(dot)com
+41-71-220-1001
SOURCE ForaCare Suisse AG