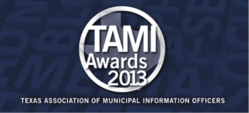 Vision Internet's content management system has helped us improve citywide communications, increase transparency and promote civic involvement. -- Greg Sowell, Director of Communications, Richardson, TX
Santa Monica, Calif. (PRWEB) June 24, 2013
Websites designed by Vision Internet for the cities of Cedar Park and Richardson, Texas were honored earlier this month when government information officers throughout the state gathered to celebrate the 2013 TAMI Awards at the annual conference of the Texas Association of Municipal Information Officers (TAMIO) in College Station.
The TAMI Awards is the leading recognition program in Texas honoring excellence for municipal communication strategies. Winners of TAMI Awards are selected by a group of non-TAMIO members with expertise in the various award categories. The TAMI Award goes to the highest scoring entry in each competing category, with Awards of Excellence and Awards of Honor presented to second and third place entrants.
The City of Cedar Park (http://www.cedarparktexas.gov/) earned the top award – a TAMI -- for website design in a community with a population of less than 100,000. Launched in April 2012, the Cedar Park website reflects the input of more than 130 residents who participated in an online survey that helped guide its design, features and overall feel.
"We are very excited to share this award with the citizens of Cedar Park, and thank Vision Internet for helping us give our community a well-designed, easy-to-navigate website," said Media and Communications Manager Jennie Huerta. "This award, along with more than 1.5 million page views by nearly 300,000 users since we launched last year, speaks of the success of cedarparktexas.gov."
For the City of Richardson, which received a 2013 Award of Excellence for website design in a community with a population greater than 100,000, this year marked the second in a row for TAMI recognition. Last June, the city's website http://www.cor.net, launched in March 2012, was recognized with a TAMI Award in the same category.
"Richardson has a long history of innovation in electronic communications and this second award underscores the ongoing support of our City Council to make sure we remain on the cutting edge of online service delivery," said Richardson's Director of Communications Greg Sowell. "Vision Internet's content management system has helped us improve citywide communications, increase transparency and promote civic involvement."
Vision Internet is a national leader in government website development and its innovative government content management system, visionCMS™, is improving accessibility and increasing government transparency in cities and counties across North America.
"Cedar Park and Richardson have embraced the latest, tech-savvy ways of proactively sharing public information that empowers citizens and keeps government accountable to the people," said Steve Chapin, president of Vision Internet. "We're pleased that they have been recognized for their vision and hard work. We congratulate all who worked so hard to open government to their citizens."
For more information about Vision Internet's transformative government website technology, please call 888-263-8847 or visit http://www.visioninternet.com/freedemo.
About Vision Internet
Headquartered in Santa Monica, Calif., Vision Internet is a national leader in government website development with more than 500 government, non-profit and education clients in U.S. and Canadian communities with populations that range from less than 1,000 residents to more than 5 million. The company creates cost-effective solutions that increase government efficiency, transparency and interactive communications with citizens. Over the past 17 years, the company has earned hundreds of prestigious awards for its unique websites. Vision Internet recently launched visionCMS™, a powerful, easy to use content management system developed with feedback from hundreds of municipal clients. For more information, visit http://www.visioninternet.com.
###