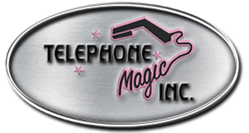 Our clients get to know their sales representative, who understands their telecom requirements and can recommend the products that are best suited for their business needs
Niagara Falls, New York (PRWEB) June 27, 2013
Telephone Magic Inc.is a long time leader in online wholesale business telecom equipment with the highly ranked web site TelephoneMagic.com. The company has now also reached a five year milestone for providing customers in Canada direct access to its' Canadian telecom web portal.
Telephone Magic is in its 25th year in the business telecom industry, serving its international client base of Fortune 500, government, and corporate businesses of all sizes - providing clients with phone systems, digital and IP phones, and accessories. While US and International business customers have accessed wholesale telecom purchases via Telephone Magic's .COM site, for the past five years its' clients in Canada have had an exclusive Canadian web site domain, TelephoneMagic.CA, for their business phone equipment purchases.
Jeff Jackson, President of Telephone Magic, indicates "We offer our Canadian business clients a unique wholesale experience, providing quotes via telephone from our experienced team of telecom professionals. Customers request a quote within the web site and we contact them directly to make their web purchase experience more of a relationship than an anonymous Internet order. Our clients get to know their sales representative, who understands their telecom requirements and can recommend the products that are best suited for their business needs".
Telephone Magic carries Avaya IP Office, Avaya BCM, Definity PBX, and Partner ACS phone systems, Avaya digital telephones, Avaya IP phones, circuit packs, cards, modules, expansion equipment, etc. Also featured are the legacy Nortel Norstar and BCM phone systems, and Meridian phone and voice mail systems, phones, Media Bay Modules, Key Codes, cards, expansion modules, parts, and accessories.
Telephone Magic also features the NEC Univerge line of business and hotel telephone systems, including the Univerge SV8100 platform. This robust IP phone system contains a host of state-of-the-art telecom features such as Smartphone Integration, Voice Mail to Email, Mobile Extension, Call Recording, and much more.
Telephone Magic also specializes in Cisco IP phones, Polycom SIP telephones, phone call recording systems; message on hold systems; hotel and motel room phones from all the leading manufacturers; telephone headsets for Nortel Norstar, Merdian, Avaya, and NEC phones; wireless headsets for business phones; long range wireless phones; conference phones; and more.
Specialty products include Mitel PBX phone system cards, Supersets, and IP telephones, Plantronics phone headsets, Norstar, Avaya, Mitel, NEC digital and IP phones, long range wireless phones, On Hold Message systems, messages, Teledex, TeleMatrix, Scitec hotel room phones, and Polycom conference phones.