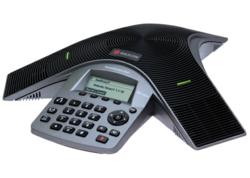 Our customers love the fact they can purchase this unit for their current analog lines but will not have to replace it when they convert to an IP phone system environment in the future
Niagara Falls, NY (PRWEB) June 28, 2013
The new Polycom SoundStation Duo is the only dual-mode conference phone for small and midsize rooms. Telephone Magic Inc. now offers this "investment friendly" business audio conferencing phone and early feedback from clients is very positive.
Jeff Jackson, President of Telephone Magic, indicates "The SoundStation Duo is a dual-mode analog and IP conference phone that provides exceptional deployment flexibility and best-in-class investment protection. The SoundStation Duo was designed for small to midsize rooms and is easy to set up and use. Our customers love the fact they can purchase this unit for their current analog lines but will not have to replace it when they convert to an IP phone system environment in the future."
The Polycom SoundStation Duo provides Polycom's legendary audio performance. In VoIP environments it delivers the most robust, standards-based inter-operability in the industry. The SoundStation Duo also offers Polycom HD Voice technology, full-duplex audio, and the latest in echo cancellation and resistance to interference from mobile phones and other wireless devices. These features and more help the SoundStation Duo conference phone deliver unrivaled group-conferencing experiences without distractions.
Mr. Jackson adds, "The SoundStation Duo is compatible with a wide array of SIP call platforms to maximize voice quality and feature availability, while simplifying management and administration. It features strong, robust SIP software which leverages the most advanced SIP endpoint software in the industry. This means advanced call handing, security, and provisioning features are at your fingertips. The SoundStation Duo also offers lower deployment and administration costs with a Web-configuration tool that makes setup simple."
Telephone Magic features conference phones from a wide variety of audio conferencing manufacturers such as Polycom, Konftel, and ClearOne. The company specializes in Polycom audio conference phones and offers conferencing units for meeting and board rooms of all sizes and applications, for use with both standard business phone lines and IP communication. Telephone Magic also carries the Nortel Audio Conferencing Unit, Avaya 2490 conference telephone for the Definity PBX, and other conference phones for use with specific phone systems.