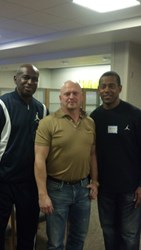 Phoenix, AZ (PRWEB) June 24, 2013
Sleep disorders act no differently towards superstar athletes as they do with any other human being. Roy Green has experienced two strokes and two heart attacks due largely in part to sleep apnea. Roy said, "If I had met David Gergen years ago, I wouldn't have had to experience having a heart attack, let alone two heart attacks and strokes. I am extremely grateful for what he's done for me and my former teammates and I'm glad to be a part of spreading awareness on sleep apnea so others don't have to to go through what I did." Since David Gergen, President of Pro Player Health Alliance, has launched his "Tackling Sleep Apnea" campaign he has gotten over 160 former professional athletes treated by the best doctors in the country.
Roy chooses to wear an oral appliance manufactured by Gergen's Orthodontic Lab as his solution to sleep apnea, although that isn't the only option. As a good friend and fellow athlete, he reached out to Larry Fitzgerald who he later found out his father suffered from sleep apnea.
While the majority of individuals know a loved one that has sleep apnea or have it themselves, they are unaware of the serious harmful effects caused by letting it go untreated. This is why Larry and Roy are on board with Pro Player Health Alliance to spread the word on symptoms and where they can go to get treated.
One way they are doing their part is by holding a golf tournament in Arizona the weekend of May 16, 2014 that will be the official tournament for the annual seminar held by the dental wing of the American Sleep and Breathing Academy (ASBA). The tournament will feature some of sports' greatest athletes including the likes of Charles Barkley. Funds raised from this event will go to the ASBA, which is a nonprofit organization.
Dentists interested in joining the academy and attending the next seminar held by the ASBA can find more information by visiting http://www.americansleepandbreathingacademy.com. To find more recent news of Pro Player Health Alliance, visit http://www.proplayersleep.com
About David Gergen
David Gergen, CDT and President of Pro Player Health Alliance, has been a nationally respected dental lab technician for over 25 years. He received the award for "The Finest Orthodontic Technician in the Country" given by Columbus Dental in 1986. He also has been appointed chair of the dental wing of the American Sleep and Breathing Academy a national interdisciplinary academy dedicated to sleep training and education with over 60,000 members. He has worked for some of the pioneers in the orthodontic and sleep dentistry fields. One of his proudest achievements is receiving The National Leadership award for Arizona Small Businessman of the Year in 2004.
About Pro Player Health Alliance
The Pro Players Health Alliance (PPHA) is an organization dedicated to helping former NFL players, through providing testing and treatment options for those who suffer from sleep apnea. In addition, the PPHA is dedicated to integrating education and raising sleep apnea awareness, in a fun and memorable way. In addition to the campaign, the PPHA is dedicated to testing and getting people treated who suffer from sleep apnea. The PPHA was created by David Gergen, President of Gergen's Orthodontic Lab and Former NFL legends.