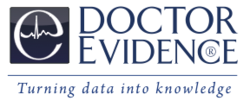 Evidence on Demand is a huge step forward for both our clients and the industry at large. Our clients have immediately understood the program's benefits and have really embraced it.
(PRWEB) June 24, 2013
In the spirit of the introduction of Agile methodologies to the process of software development, Doctor Evidence, LLC has designed a new approach to the collection and categorization of evidence from clinical databases that the company hopes will revolutionize the market for evidence synthesis. The new approach, called "Evidence on Demand" (EoD), is being applied to the company's digital database solution, DOC™ Evidence; however, the EoD approach can be extended to use for the development of any comprehensive clinical database.
The EoD process begins with the creation of a categorized index of every variable from each study within a given clinical database, along with the number of studies in which each variable occurs. This is presented to clients in the form of a comprehensive "frequency tree" from which, using the EoD interface within DOC™ Evidence, clients may then select their specific variable(s) of interest for data extraction by internal Doctor Evidence teams. This allows clients an ability to utilize the exact data variables when needed while being able to subsequently request data over the life of a project as additionally required. EoD solves the dilemma of the tradeoffs that evidence teams often make regarding what endpoints that they choose or don't choose to collect. The EoD methodology employs a hybrid of human and machine technologies to use early project resources to comprehensively index data in articles for full transparency into the data selection process. The indexed data is in turn displayed in an intuitive interface for end-users to request, maintaining full transparency of the underlying data therefore eliminating the need for an intermediary to make data selection criterion decisions.
The usual process of extracting data from a single clinical study can take hours or even days to complete according to the amount of information to be extracted. Without a clear understanding of the variables of interest beforehand, a significant amount of time can be spent to search and extract every possible data point from each study. This is even though a majority of the data may not be useful for analysis or other review. The EoD system allows for a focus on high-value characteristics and outcomes (for example, a seldom-reported adverse event) that were not initially identified as important but that, in the context of the entire dataset, may emerge from the literature with greater importance than expected.
"Evidence on Demand is a huge step forward for both our clients and the industry at large. Our clients have immediately understood the program's benefits and have really embraced it," said Bob Battista, co-Founder and Chief Executive officer of Doctor Evidence. "The EoD program is ultimately an advancement in 'evidence-based medicine environmentalism,' offering a better apportioning of resources, which in turn is extremely beneficial to the client in faster response times, increased transparency and lower overall costs. We have already used the EoD methodology with several leading pharmaceutical manufacturers and in one case were able to complete an otherwise impossible project for a leading company's response to the FDA."
The introduction of Evidence on Demand is a significant aspect of Doctor Evidence's larger efforts towards achieving a reduced overhead, fully integrated evidence-based medicine platform solution for its clients. The use of the Evidence on Demand interface within DOC™ Evidence has significantly shortened the time required to build and deliver important data to customers. Overall, quality assurance is increased through the employment of human capital (trained analysts and QCers) to refine the clinical data loaded into the DOC™ Evidence platform. Planned improvements to the system user interface and underlying architecture are planned for further streamlining of the database development process.
About Doctor Evidence, LLC
Doctor Evidence is a specialty software platform and services company aimed to assist stakeholders across the healthcare ecosystem to make and inform clinical and business decisions with the most relevant medical evidence. The Doctor Evidence methodology uses a Digital Outcome Conversion (DOC™) approach of taking data from published clinical studies, FDA drug labels, and epidemiological databases to transform static data into reusable, dynamic relational databases. Our software platform empowers both public and private sector clients to identify the most relevant literature and conduct ready analyses with the highest level of transparency available for today's evidence-based medicine methodological standards, in the pursuit of reducing healthcare costs while increasing the quality of patient outcomes. The DOC™ Evidence platform currently holds over six million data points that have abstracted from clinical literature, with counts increasing every day as new projects are completed.
Doctor Evidence serves decision-makers in two large addressable market segments, Medical Manufacturers and Healthcare Providers, for the ultimate wellbeing of patients. Doctor Evidence is helping to transform the healthcare ecosystem by identifying the most efficacious and safe medical treatment on a comparative-effectiveness basis, including related economic costs and total-cost-of-care analysis.