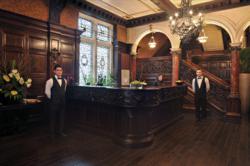 Grand Royale London Hyde Park has combined some great services into one and has named it the Romantic Stay package.
London, United Kingdom, June 26, 2013 (PRWEB UK) 26 June 2013
Grand Royale London Hyde Park, one of the top 4 star hotels London. luxurious accommodation Properties near the iconic Hyde Park in Central London's prestigious West End has got a host of great news to share. Grand Royale London Hyde believes in continuous upgrade of the property in order to meet the changing demands of customers. In a bid to do that, the hotel has introduced a new entertainment service for its esteemed guests. Besides, the hotel is currently offering some very exciting packages, special stay offers and complimentary service to provide guests with additional delight and privilege. Grand Royale London is specially recognized for offering attractive hotel discount London and the special stay offers that the hotel is currently offering have once again proved why the hotel has earned this recognition.
So, by choosing to stay at Grand Royale London Hyde Park this season, guests can not only enjoy majestic luxury, highest level of comfort and complete convenience but a lot more. Here are details of additional facilities that guests can enjoy this season by choosing Grand Royale London Hyde Park as their London home.
Sky Sports
The Edwarding Theatre Bar, one of the most charming corners of the hotel is now even a better place to sit back and enjoy time with family and friends since popular sports channel Sky Sports is now showing there. Guests can now laid back on comfortable chairs and sofa and cheer for their favorite teams and sports stars while enjoying sips of fine cocktails and light appetizers served at the bar.
This season, esteemed guests of Park Grand London Hyde Park can choose from a host of specially designed packages to enjoy some added privileges. The packages that are currently available are:
Shopaholic's Break
Romantic Stay Package
Special Stay Offers
Advance Purchase
Complimentary services
Shopaholic's Break
London is haven for the shopaholics and in a bid to offer its guests a great shopping experience, the hotel has designed the special Shopaholic's Break, which combines:

Overnight stay in a double room
Complimentary English breakfast for two the next morning
Bottle of Champagne, fruits and chocolates and in-room upon arrival
Free transfer to Oxford Street
Romantic Stay Package
To make its guests' trip to London a great romantic and memorable event, Grand Royale London Hyde Park has combined some great services into one and has named it the Romantic Stay package. Facilities that are included in the package are:
Overnight stay in a luxurious club room
Traditional English breakfast (to be served in room)
Complimentary bottle of Champagne (to be delivered to room)
Fruits and chocolates in bedroom during check-in
Red Rose petal turn down service
Complimentary late-check out until 2pm
Special Stay Offers
Staying at a deluxe hotel like Park Grand London is expensive, but with the special stay offers that the hotel has designed, it is highly affordable for all. Offers that guests can choose from are:
Stay 2 Nights, Get 10% Off
Stay 3 Nights, Get 15% Off
By booking a room at the hotel for two consecutive nights, one can now save 10 percent of the booking charge and it will be five percent more for those who decide to stay for three nights. Longer the stay is, more is the scope to save money.
Advance Purchase Offer:
By booking a room of any category at Park Grand London Hyde Park 10 days in advance, guests can enjoy benefit in the form of special early bird rates.
Complimentary services:
Staying at the Park Grand London Hyde Park is a matter of privilege this season since the hotel is offering a host of complimentary services.
Breakfast is complimentary when booking is made directly either through the official website of the hotel or through its central reservation team. With websites replacing manual action, hotel booking London has become far easier than before. To book a room in the hotel through website, one has to log on to http://www.grandroyalelondon.co.uk and to call the central reservation desk, one has to dial +44 (0) 20 7313 7900.
Wi-Fi access in all public areas inside the hotel's premise is now a complimentary service
Broadband internet access in all rooms is a complimentary service at the hotel.
Wines and beverages
The in-house bar of the Grand Royale London Hyde park now offers a wide selection of finest wines, beers, cocktails and spirits that can make an evening very charming for guests. Serving starts from 4.30 pm and curtain is called at 11 pm.
Father's Day
Father's Day in London would be celebrated on June 16. Guests who are traveling with their parents can gift their beloved father a nice day by taking him for a local sightseeing tour and shopping.