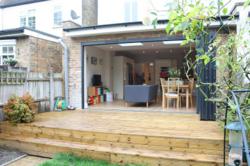 With fewer buyers in the market and more houses to choose from, it is more important than ever for the seller to have the best house.
London, UK (PRWEB UK) 26 June 2013
Whisper it quietly, but many in real estate believe that the worst of the recession is in the past, and the housing market is showing signs of recovery, but homeowners who are looking to sell should be prepared to spend money on improvements first. That is the verdict of Simply Extend, the premier provider of home extensions in London.
In an interesting shift from the nature of the pre-slump marketplace, the property industry now revolves around the competition between sellers and not between buyers. With fewer buyers in the market and more houses to choose from, it is more important than ever for the seller to have the best house. This means offering the buyer a house that is renovated and ready to go.
More and more home owners are opting for cost effective home extensions in London by companies like Simply Extend since they can provide more space to boost the value of a property and they are always finished to the highest possible standards, and ready to be lived in come moving day.
Even the government is backing these home extensions, by relaxing the requirements for planning permission, and allowing residents to extend their home by up to 26ft without troublesome red tape.
But with Simply Extend, even the most ambitious of home extensions in London are as easy and stress free for the client as possible. The company tackles all design, planning permission and legal paperwork on the customer's behalf, and create bespoke home extensions with any design features or facilities that the customer believes will improve the saleability of their house.
One recent home extension in Richmond London saw a family create an entirely new kitchen diner, complete with a dramatic skylight in the extension roof which served as an eye-catching design feature and allowed an abundance of light into the space. In addition, the company provided a separate utility room and downstairs WC.
The added touches provided by the experts at Simply Extend could be the difference between success orf failure in the market. Improving the valuation of the property is obviously important, but if the buyer has the choice between two homes at the same value, they are much more likely to choose the home that is finished to a higher standard.
For more information on home extensions in London and the full Simply Extend service, pay a visit to the Simply Extend website today. Customers will find all the information they need, and they'll have access to a free, no obligation quote for their very own bespoke extension.