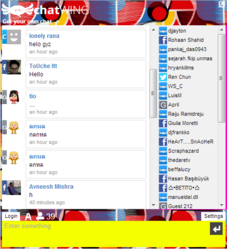 Seattle, WA (PRWEB) June 24, 2013
The sporting community can now rely on the newest and useful chat app feature offered by Chatwing.com. This feature, dubbed as chat network system, attempts to create a stable connection between many chatrooms through niches and groups. This can be set up by users in their account dashboard. According to the developers, this new feature can help sports fans share their thoughts and suggestions about current sporting events. They can even invite other people in their sporting endeavors.
Sports fans can use the chat widget network to discuss important points about their favorite games. During the test run period, Chatwing's developers noticed that sports fans usually talk about their favorite athletes and the controversies connected with them. Aside from that, the fans are also discussing the importance of sports training and routine.
Setting up the chatroom network is easy; the user must register in the Chatwing homepage by inputting his email address with his desired password. The registration process can be finished instantly—there is no need for confirmation or activation links. After the registration, the user will be prompted to visit his account dashboard to edit appearances. There, he can join any available chat network in just one click. Once the chat software is activated, it will be connected to other chatrooms within the group.
The chat network system is not just important to the sporting community, but to other communities as well. The Chatwing Team has created a new branch of opportunity in the premise of website chat, ensuring leverage to thousands of users.
About Chatwing.com
Chatwing.com specializes in the new field of live website chat. Over years, the Chatwing team has introduced live chat widget for hundreds and thousands of blogs. The Chatwing application bridges people from many parts of the world, creating global synergy through the Internet. The shout box can be installed in just seconds, and it can be used for varying purposes such as leisure and Internet marketing. It also allows a user to customize the size, color, and name of the widget.