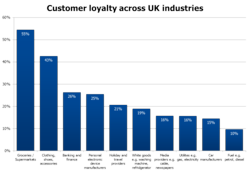 (PRWEB UK) 26 June 2013
The research suggests that supermarkets currently have some of the highest levels of customer loyalty, with just over half (55%) of respondents saying that they feel loyal towards a brand in a grocery sector.
However, the results also show that under half of consumers describe themselves as loyal to brands across all other UK sectors, including clothing and footwear, holiday and travel products and personal electronic devices. Just 43% said that they feel loyal towards retailers in the clothing and footwear markets, whilst a quarter (26%) claimed that they are loyal towards their bank or other financial institutions.
Derek Eccleston, Commercial Director at eDigitalResearch, explains, "Loyalty schemes have been a big success for retailers, restaurants and other consumer facing industries in the past several years. They give customers the best deal by encouraging them to visit a brand over and over again and were quickly adopted by consumers as they shopped around for the best deal.
However, price isn't always the key differentiator between brands these days. With profit margins being continually squeezed and retailers promising to price match, the overall customer experience has become even more important. With levels of loyalty across UK industries so low, building a good relationship with your entire customer base is essential and providing a consistent customer experience is key to that".
The results come from eDigitalResearch's first Customer Experience study, examining loyalty, customer contact and brand relationships, the full results of which will be available in July.