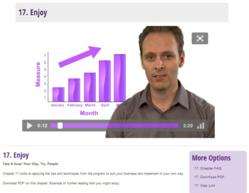 Using professional HD video, 3D animation and interactivity to ensure that the training experience is engaging
(PRWEB UK) 26 June 2013
Through the use of professionally produced HD video, 3D animation and interactivity, combined with content developed and presented by leading experts in specific fields, the company will greatly improve the learning process, revolutionising the way that individuals and organisations view and access training.
Three Minute Trainer's courses remove the three biggest barriers to training for businesses:

The Cost of course material, professional live trainers, attending staff and extra staff cover, plus travel and expenses.
The Time taken by courses, the impact of additional study, and travel to and from training venues.
Access to the highest quality trainers, capable of delivering engaging content consistently, in formats audiences actually want.
Three Minute Trainer are rising to meet these challenges directly by providing affordable and flexible training from leading experts with unlimited learner access. Using professional HD video and animation to ensure that the training experience is engaging, while allowing individuals to learn at their pace and time with courses designed to stream seamlessly to computers, laptops and smartphones.
CPD accredited content is presented in 'bite size chunks' to facilitate 'on-the-go' learning and allow for easy access, to review and revisit key learning points.
Learners have direct access to their trainers, so support is always available. They can also benefit from collaborative learning through forum discussions and regular expert blogs. Chaptered film content is also supported with specific FAQ, download and link material, allowing subject knowledge to be expanded by learners.
The first four video courses available online from Three Minute Trainer:
Massive increases in the popularity of digital video content online, reflect changing entertainment and platform choices. Three Minute Trainer will help individuals to make the transition from entertainment to learning with its range of suites, expanding options to reflect real areas of benefit and interest.
Learning should be viewed as a lifelong and continual activity, and access to training in bite size chunks from leading experts at the touch of a button, and at a time and pace that suits individual audience members will see the trend continue to grow.
There has never been a better time for individuals to learn, and the team at Three Minute Trainer make the experience entertaining, accessible and cost effective.